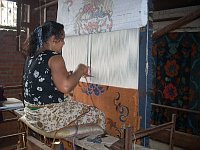 This article tries to be a practical guide for purchasing a rug from Nepal. Instead of Nepal rugs the term "Tibetan rug" would be more appropriate.
However the term "Nepal rugs" has become common over the last decades, mainly in Europe where Germany and the United Kingdom are the major importing countries.
Nepal Rugs - It Began in 1959
The history of Nepal rug making began in 1959 when ten thousands of Tibetans fled from the Chinese Communist troops that had occupied their country. They found a new homeland in countries like India, Bhutan and mainly Nepal and began to earn a living by making rugs. This was the beginning of the Nepal carpet industry.
Practical Guide for Buying Nepal Rugs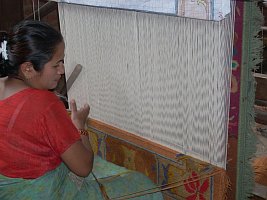 If you want to buy a Nepal rug you should know and take a few things into consideration that depend on your personal taste and preferences and your expectations on quality.
Traditional or Modern?
Traditional Tibetan Rugs have very comprehensive and colorful design elements. Typical are dragon designs, other animals and mythical beings like the phoenix bird or the snow lion, floral designs and rugs with Buddhist symbols. Also strong colors are typical for traditional Tibetan carpets.
The Tibetan rug is a nomad rug by its origins. It was used mainly for sitting and for sleeping. Therefore the typical size is roughly 3 by 6 feet = 90 by 180 centimeters.
Tibetan carpets, as most of you know them - in sizes of 2 by 3 meters or 3 by 4 meters - are a fabrication of the Nepal carpet industry that began to accommodate designs and sizes to Western tastes in the seventies. Also modern designs with often only a simple border and no design elements in the middle, are an invention of Western interior designers and have little in common with original Tibetan rugs except for the weaving technique.
The Wool of Nepal Rugs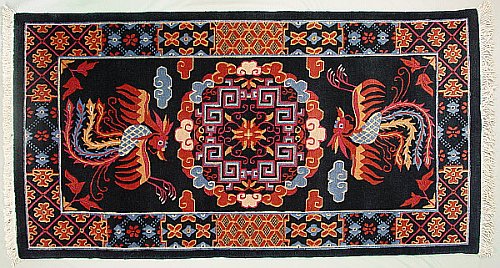 One can also buy "Nepal" rugs of minor wool quality. The origin of these carpets and the wool is mainly in India, and one should rather speak of Tibetan carpets from India. Unless someone tries to take you to the cleaners, such carpets are considerably cheaper. And sometimes the wool for these rugs is even mixed with jute.
You can feel the quality of the wool by gliding with your hands over the rug surface. Good wool gives you a soft feeling whereas low-quality wool provides a coarse touch and feel.
Provenance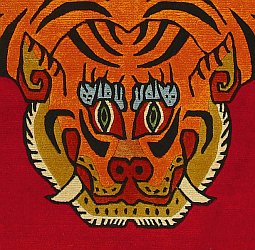 Today the bulk of Tibetan carpets comes from Nepal. The lower-quality and cheaper carpets are produced in India. Another reason why Indian carpets are so cheap is that those who make them get paid even less than in Nepal.
According to a report in the Asia Times newspaper from August 17, 2010 the average income of a rug weaver are US$ 32 in India and US$ 60 in Nepal. That is per month, not per day! I recommend to read my article about the Nepal carpet industry in 2010.
When you buy a cheap Tibetan carpet from India then this is comparable to buying an extremely cheap sports shoe made in China at a discount market for $19.99. At least you as the buyer should be aware of why you can buy so cheap. Because people are exploited in the country of production.
The Nepal rugs offered by artelino come from a manufactory in Nepal whose owner, a Newari, is a personal friend of mine for more than 30 years. Working conditions are examplary for Nepal. My friend maintains a nursery and a private elementary school for the children of the workers. Please take a look at our article Tibetan carpets from Nepal and the image material.
Number of Knots per Square Inch
Nepal rugs are available with different knotting densities. Typical are 60, 80 or 100 knots per square inch. One would assume something like "the higher the density the better". But that is wrong. It rather depends on what you want. The higher the density, the thinner the wool thread must be. And thus the pile would be less thick.
However many, including me, appreciate the thick, soft pile of the Nepal rugs. If you want to have a soft, thick, beautiful Tibetan rug, a good choice is 80 knots per square inch in my view. artelino has nearly all their rugs produced in this 80 per square inch density.
Dyes of Nepal Rugs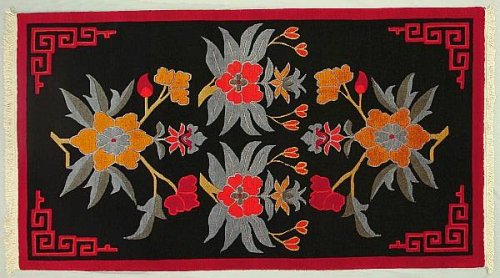 You can choose between synthetic and natural/vegetable colors. Nearly hundred percent of the rugs now produced in Nepal are made with synthetic dyes.
"Synthetic" may sound for your ears like "artificial" and somehow not like the stuff you expect from an all hand-made Nepal rug. Very wrong. Don't worry. Synthetic colors have come into use in Tibet since the late nineteenth century. The aniline dyes have the advantage of being light resistant and they allow a much larger range of color variations.
Natural/vegetable colors are either produced by leaving the wool as it is (from white to black) or the dyes are received from a variety of plants and minerals. But as said above, the color spectrum is limited. And moreover, the plant resources for many of the old colors are today no longer easily accessible or their procurement would require costs out of proportion.
If you want to learn more about Tibetan rugs with vegetable dyes, follow the link. And on another page you can view a color slide show with historic images from the early 1980 with roughly 50 Tibetan rugs in natural and vegetable colors.
Contouring, Trimming?
Nearly all Nepal carpets are trimmed by incising slightly into the pile along the lines of the patterns. This process is done by the help of a simple pair of scissors. Thus the design elements receive a more embossed, three-dimensional look. But of course, the carpets are also expedited without trimming on a client's request.
In my view the trimming makes the rugs look much better.
Video: Nepal Rugs from artelino
In 2009 we produced a short video with some explanation by me about traditional Tibetan carpets. Duration 6:52 minutes. It was one of our early videos. At least we tried.
Where to Buy Nepal Rugs?
Of course, it is always a bit a problem to make a tangible recommendation where to buy. But OK, here is a little bit of practical advice.
Buying directly in Nepal
Of course, the cheapest way is to buy directly in Kathmandu in Nepal. I recommend the Jawalakhel Handicraft Center in the Tibetan refugee center of the same name. Please follow the link. In this article you will find ample information. The money that you spend there is well spent, and it goes directly into the pockets of the Tibetans who especially now do really need it.
There you will find a large selection of traditional and modern rugs in all sizes and shapes. If the rug is not too large, take it with you on the airplane when you go back to New York, Kansas, London, Amsterdam, Paris or Florida. Larger pieces can be shipped. That is connected with a bit of work for you and of course with transportation costs. But overall, it is still an excellent and cost effective solution for you.
Buying a Tibetan Rug in the Internet
Buying a Nepal rug in the Internet is an alternative. But you cannot see it and touch it to get an impression of its quality. Also the colors will never be a hundred percent the same. When buying in the internet, you should not be too picky regarding how well the carpet should harmonize with the colors of your curtains. Otherwise you only make yourself and the rug shop owner unhappy.
If it is about a large country, quite frankly speaking, I would order it only from a domestic shop due to the high transportation costs and the hassles of a possible return shipment.
Where to Buy a Traditional Tibetan Rug?
If you are looking for a traditional Tibetan rug, this means it will not be larger than roughly 3' by 6'. That makes a purchase in the Internet definitely easier. You can use a small link collection for traditional Tibetan rugs provided by artelino. In all modesty, I think that my little shop has a good chance of getting your order if it is about a traditional Tibetan rug.
United States of America
If you are in the United States of America, you have no import taxes on Tibetan rugs to my knowledge. Definitely not if the shipment comes from Germany. If you buy from a dealer like artelino who is located in a member state of the European Union (EU) you save the VAT. VAT stands for value added tax - that is the European sales tax. In addition to the item price we charge you a shipment fee. And in case of a return you have to cover a one-way shipment. Artelino reimburses the item price plus the artelino shipment fee.
United Kingdom and all other EU Countries
If your shipment address is in one of the member states of the European Union (EU) and you buy from another EU country like Germany, you pay the VAT percentage valid in the dealer's country. That's the bad news. The good news, no customs or other duties involved for purchases within EU member states.
Artelino shows all prices including VAT and in Euro. Shipments within Germany are free. To all other EU member states we charge a shipment fee. Now comes the good news. Returns are free within all countries of the European Union. Thus buyers from an EU member state run really zero risks when buying from artelino.
Only Traditional Nepal Rugs from artelino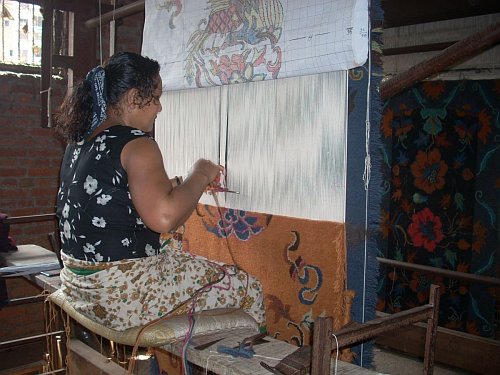 Artelino is not a normal carpet dealer. On our web site you will not find any of these rugs of modern Western designs - often also of inferior quality - and tagged with odd names of fantasy like "Quandavishnu" or "Buktapari" and similar nonsense.
We offer only traditional designs and sizes of circa 90 by 180 cm (3 by 6 feet) that are made especially for artelino after patterns of old designs. We also see our rugs more as art works, or at least as top level artisan products. We are not the supplier for a carpet that is ideal for being placed under your coffee table. Nepal rugs by artelino are like works of art and therefore nothing should be placed upon them.
If you are interested what traditional Tibetan rugs by artelino look like, please see our Tibetan rug gallery.
Dieter Wanczura, March 2010