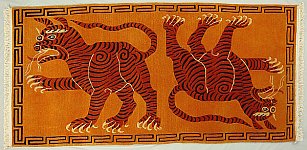 When ten thousands of Tibetans crossed the high mountains to the South fleeing from the occupying troops of Communist China in 1959 they could not bring any material values with them. But they brought their knowledge of old Tibetan crafts and arts and the unique Tibetan culture to Nepal, India and Bhutan.
The Origins of the Nepalese Carpet Industry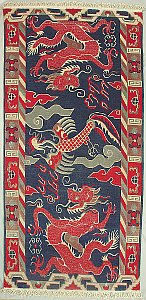 Most of the Tibetan refugees settled in Nepal, others in Northern India and some even in hot southern India. Many of the displaced Tibetans then began to make a living by making carpets.
In this context the tiny European nation of Switzerland should be mentioned. The small country in the heart of Europe not only gave home to 1,480 Tibetan refugees between 1960 and 1981 but also supported carpet producing projects in Nepal. Tourists in the 1960s may remember that they were advised to look out for carpets dyed with "Swiss colors". Like Swiss watches it was a name for quality compared to the poorer Indian colors.
The Tibetans are hard-working and efficient people. In the 1980s the carpet industry had become Nepal's leading export industry. But within a few years the product itself, the Tibetan carpet, underwent radical changes. The Tibetans and Nepalese swiftly began to accommodate to the tastes of the carpet importing countries, among them Germany as the largest importer. Germans and Europeans were not so much interested in the old traditional designs and traditional rug sizes of ca. 3 by 6 feet (ca. 90 by 180 cm). They rather wanted to have large floor carpets with a minimum of designs.
And thus started the fast disappearance of the traditional Tibetan rug.
The Nepalese carpet industry continued to grow during the 1980s and 1990s, but reclined considerably in the new millennium in terms of manufactured and exported square meters. Today at least 99 percent or even more of the rug production in Nepal are simple, modern patterns dictated by Western interior designers. These carpets are in my view boring and are more like wall to wall carpets. They have nothing to do any more with traditional Tibetan rugs. And although they are still hand-knotted, they can be made by any unskilled Nepalese workers.
What is a Traditional Tibetan Rug?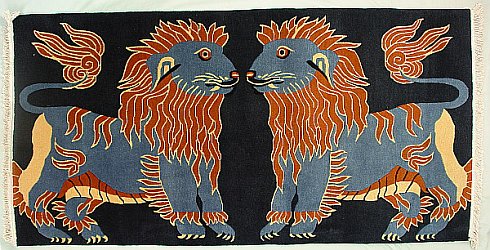 To make you understand what a traditional Tibetan carpet looks like, it is best to buy one of the few but good books on Tibetan rugs. A traditional Tibetan rug is a work of art - rich in design, colorful, elaborate, all-hand-made and small in size. Let's cover a few of its characteristics.
The Origins
Before the flight of the Tibetans in 1959 Tibetan rugs were practically unknown in Western countries. Research on the subject began in the 1960s based on few available old rugs. At first, Western book writers and scholars thought that the art of Tibetan rug making was not older than early 19th century.
This theory soon turned out to be fundamentally wrong. Today we know from old Tibetan documents that the tradition of carpet making in Tibet is at least 1,000 years old - possibly even older.
The Techniques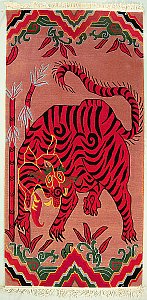 The Tibetans use a unique knotting technique that is completely different from the Persian or the Turkish knot. The Tibetan knot allows to produce carpets with much thicker tuft. And the Tibetan knot allows a more efficient, i.e. faster weaving.
The Materials
For Tibetan rugs sheep wool is used. Before, it was the wool of the Himalayan highland sheep. For the best of the Tibetan carpets produced in Nepal, wool from New Zealand is used. The New Zealand wool can keep up in quality with the Himalayan wool.
Carpets made in India compete on price. The wool used for these "Tibetan" rugs is usually of lower quality and sometimes even mixed with jute.
Today for warp and weft cotton is used. For older rugs until circa the middle of the 20th century wool was used for warp and weft. That does not mean that older rugs are better. Indeed, cotton is stronger and more resilient.
The Sizes
Traditional Tibetan rugs were used by the Tibetans for sitting or for sleeping - thus completely different from the use of Europeans and Americans. Therefore the typical size is 3 by 6 feet (90 by 180 cm) for the typical bed-sized rug and smaller as a cushion to sit on. Other usage was the decoration of monastery pillars - so-called pillar carpets. Only the aristocracy and high lamas used larger rugs. But these are rather rare.
Colors and Designs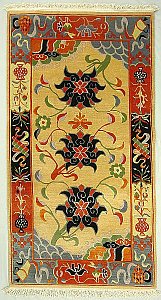 All over the world you can recognize that people who live in a mountainous region, have a crave for strong colors. The Tibetans make no exception. Therefore the traditional Tibetan rug is characterized by strong colors and rich ornamental designs. The ornaments are often of Buddhist origin - a pantheon of good-luck symbols and mythological animals.
Since the late nineteenth century or early twentieth century synthetic colors are used for the dyes. They came into Tibet from India. Aniline dyes allow a stronger and wider spectrum of colors. Before, only natural dyes (vegetable colors) were available. The ingredients for the vegetable dyes were plants and minerals. The color spectrum is however limited and the raw material for thy natural dyes would be very difficult to get today. There was a short period in the early 1980s when vegetable Tibetan carpets saw a kind of renaissance.
Tibetan Rugs by artelino
We at artelino offer exclusively traditional Tibetan rugs in traditional designs and in sizes of circa 3 by 6 feet (90 by 180 cm). The designs are made exclusively for us in a carpet manufactory in Nepal owned by a Nepalese friend of mine whom I know for about 30 years. We take the designs from old books and other sources. The carpets are created by skilled Nepalese and Tibetan designers and weavers. Only the best and most experienced artisans can make them. My friend maintains a private school and a nursery with two privately paid teachers for the children of the workers.
Video: Tibetan Carpets
In 2009 we produced a small video in which I give a bit of explanation about Tibetan carpets. We then offered the rugs in auctions on our old web site www.artelino.com. Duration 5:23 minutes.
Dieter Wanczura, March 2010