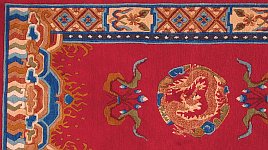 This page introduces three books on the subject of Tibetan rugs. All are recommendable. One is specialized exclusively in the genre of Tibetan Tiger Rugs.
For copyright reasons we do not show the covers of the books. We do not sell books. Please check the web sites of book sellers. Instead of the book covers we have decorated the page with details from images of traditional Tibetan rugs that we sold in the past or that we have on stock.
Books on Tibetan Rugs
In addition to the text comments below, we produced a small video in 2009 of the same subject - me trying to get my book reviews across. Duration 5:50 minutes.
Tibetan Rugs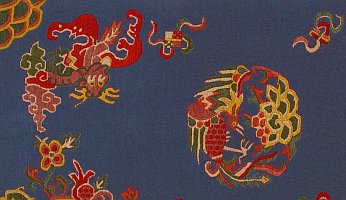 By Hallvard Kare Kuloy. White Orchid Press, Bangkok. First printing in 1982. ISBN 974-82999-94-5.
This book is some kind of a classic standard for information on Tibetan rugs. It comes in a small, handy format and covers all aspects of Tibetan carpets like the techniques of rug making, materials, designs, history and so forth on roughly 50 text pages with excellent illustrations, among them many rare, old black and white photographs.
The second part is a display of Tibetan rugs on about 150 color pages. The examples shown are among the most beautiful ones I have seen. The designs are exclusively traditional. Each rugs is documented with sizes and other technical information.
In my view definitely a good book with excellent color plates that demonstrate the great beauty of traditional Tibetan rugs.
What I do not like about the book is the attitude of the author who regards everything made after 1970 as inferior to everything made before 1930/40. For example, synthetic colors are inferior to natural dyes, or to give another example, rugs with warp and weft made of cotton are inferior to old ones for which wool was used.
Such generalized opinions of the kind "old" is good and "new" is bad, are often to be found among self-styled Western "experts" of all fields in the arts and crafts section. I think this attitude is rather stupid and especially for Tibetan arts and crafts simply nonsense. Thangka paintings, hand-made metal statues from Nepal or rug making, the old craft has not died out yet. Also today you can still find excellent products made by great artisans and available for very little money. To find the good stuff, you have to clear your mind of preoccupation, invest a bit of time, be ready to pay a bit more than in the tourist market and most of all - trust in your own judgement.
Nevertheless, I recommend this book as first choice for someone who wants to get the essentials in one book and see a lot of very fine traditional Tibetan rugs.
Of Wool and Loom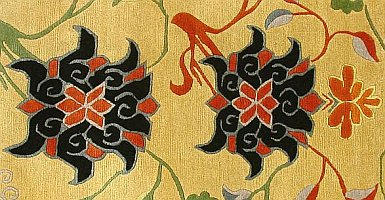 "Of Wool and Loom, the Tradition of Tibetan Rugs". By Trinley Chodrak and Kesang Tashi. Orchid Press, Bangkok 2000. ISBN 974-8304-15-9 (TP), ISBN 974-8304-13-2 (HC).
This book was written by two Tibetans, Trinley Chodrak and Kesang Tashi. The book claims to be the first overview on the Tibetan rug making tradition to be written in English by native Tibetan people.
Indeed, the book covers the subject from the view of Tibetans who have not sought exile in Nepal or India, but live in Chinese occupied Tibet. Mr. Trinley Chodrak was appointed in 1993 as Director of the Tibetan Autonomous Regions, Tibetan Museum. And Mr. Kesang Tashi, after having received an MA at Madison University, Wisconsin, has been active in developing enterprises in Tibet of commercial carpet production, forestry conservation and eco-tourism.
I like this book very much for two reasons. First of all, the introductory text part (about 60 pages) contain excellent and well-written information on the essential aspects of Tibetan carpets and textiles. Especially the coverage of the history of the craft is very competent and gives you the feeling of receiving first-hand information by authors who are very knowledgeable in their field.
The second part consists of color plates with examples of traditional Tibetan rugs on ca. 90 pages plus short explanations. All the examples are from the museum and nearly all examples are dated early twentieth century. The carpets on display are a very beautiful collection of traditional Tibetan designs.
You find however no information about the actual situation of carpet making in Tibet today. The authors have concluded the text part of the book with one chapter titled "Tibetan Rug Weaving in the Modern Era". The chapter is an effort to underline the necessity and the scope of building up a high-quality carpet manufacturing in Tibet. But the reader does not learn much about the current situation of rug making in Tibet except that the volume is very small compared to the productions initiated by exile Tibetans in Nepal and India.
To wrap it up, I like this book very much. Apart from the excellent information part, the beautiful carpets on display alone are worth buying the book.
The Tiger Rugs of Tibet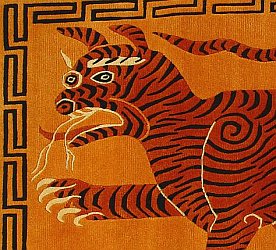 Edited and with an introduction by Mimi Lipton. With contributions by Cyril Barrett, Jim and Barbara Ford, Philip Goldman and Tom Phillips. 108 color plates and 50 illustrations. Published in 1988. ISBN 1 85332 025 0.
This book was published at the occasion of an exhibition titled "The Tiger Rugs of Tibet" at the Hayward Gallery, South Bank Center, London, in 1988. I found it in Kathmandu but assume it will still be generally available.
The book is entirely devoted to the genre of Tibetan tiger rugs. The common denominator of these rather popular carpet theme is the depiction of one or two tigers - either quite vivid or as flayed tiger skins. Tiger rugs enjoy a somewhat mysterious and enigmatic reputation. Before the flight of thousands of refugees from Tibet in the late 1950s they have been practically unknown in the West. From all we know today, this design had been reserved for high lamas and members of the Tibetan aristocracy.
On more than 100 color plates, the book gives an ample view on different design patterns of the tiger subject. Several articles not only provide exhaustive information on the tiger design but also inform on for instance the special weaving technique used for Tibetan carpets.
To my knowledge this is the only book entirely devoted to Tibetan tiger rugs. As such a great book for anybody who wants to learn everything about this genre and enjoy full color images of some gorgeous examples of these fine rugs. As a general introduction to Tibetan rugs I would however recommend one of the other two books mentioned on this page.
Dieter Wanczura, March 2010