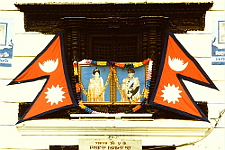 Kathmandu is the capital of Nepal and the major city in the Kathmandu valley. In 1975 Kathmandu city had roughly 150,000 inhabitants. At that time Nepal had no TV and the holy cows had a firm control over New Road, one of the major streets in the center of Kathmandu.
Kathmandu as it Once Was
Kathmandu City Now
In 2001 Kathmandu had circa 670,000 inhabitants according to the official census. And that is one of the many reasons for today's problems. Today Kathmandu is a congested, busy, polluted urban accumulation lacking any reasonable infrastructure and planning to cope with such basic urban needs like traffic regulation, sewage systems or garbage collection.
The Origins of Kantipur
The origins of Kathmandu, or Kantipur (the old name), are in the mist. According to a legend the Kathmandu valley once was a huge lake. One day the god Manjushri could not reach a certain place in Kathmandu because of the water. Manjushri simply cut an opening with his sword into the hills and the water of the lake dried out to the south. Imagine, Manjushri would have done that in our days! He would hit on hefty criticism by ecologists.
Kathmandu, the Living Museum
In spite of rapid changes to the worse over the last decades, Kathmandu center is still like a living museum. The first pagodas and temples were built in the 15th century. Architecture and arts thrived under the Malla kings. In 1768 Kathmandu valley was invaded by the Gurkhas who ended the reign of the Malla dynasty. It was the beginning of the Shah dynasty which lasted until 1846 when a young general of the name Jung Bahadur Rana established the reign of the Rana family by a bloody coup d'etat, the Kot massacre in 1846.
Return of the Shah Kings in 1951
The Rana clan ruled Nepal until 1951. The royal family was kept like prisoners from 1846 until 1950. In 1950 king Tribuhuvan could escape to India, organize his return with Indian support, topple the Ranas, and return to Nepal as ruling king in 1951. With the return of the Shah dynasty the opening of Nepal for Western tourist began, until then a forbidden country for foreigners,
End of Royal Nepal
Towards the end of the twentieth century the rule of the Shah family was more and more destabilized by a movement for democracy. And with the beginning of the new millennium the country was daunted by a militant obscure, communist group, the Maoists. Nepal was lamed by civil war. In 2008 the monarchy with the last king of Nepal,Gyanendra Bir Bikram Shah Dev, was abolished. The political and economic situation of Nepal and its capital Kathmandu over the last years is best described as chaotic. Gone is also the innocence and the flair of the former Hippie paradise of the 1960s and 1970s.
Kathmandu on Google Maps
{mosmap width='500'|height='400'|lat='27.7045'|lon='85.3191'|zoom='12'|zoomType='Large'|zoomNew='0'|mapType='Hybrid'|showMaptype='1'|overview='0'|text=''|lang=''}
Related Articles
Dieter Wanczura, May 2010