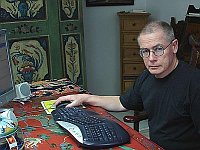 I had not seen Kathmandu, the capital of Nepal, since the early 1980s. 25 years later, I decided to return, this time to look for fine art.
After I published my intention to travel to Kathmandu, I received many emails from customers who themselves had traveled to Kathmandu in the 1970s and 1980s. They asked me to report on my experience upon my return. So here is my travel account of Kathmandu.
Munich - Dubai - Kathmandu
In Fall 2007, I auctioned off some items from Tibet and Nepal from my personal art collection: Tibetan thangkas and Nepalese statues. With the successes of these two auctions, I decided to return to Kathmandu in search for art.
I contacted an old friend in Nepal, who comes from a long line of merchants and has himself been dealing in the art and handicrafts trade for decades. I traveled with Qatar Airways from Munich to Kathmandu via Doha.
First Impressions at Kathmandu Airport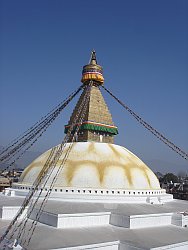 The airport in Kathmandu has been expanded to accommodate increasing tourism and is far larger than it was 25 years ago. But altogether, it is still as chaotic as it was then, best described as a "mess". During my two week stay, it became very apparent to me that the whole country has since become a "mess." 25 years ago, the city of Kathmandu had approximately 150,000 residents. Today the population in the Kathmandu valley has grown to about 2.5 million residents.
I can still remember the taxi rides to and from the airport 25 years ago. Once upon a time, we drove past many fields and gardens with sparse vegetation. Today the sea of houses has expanded to the airport. Many of the new high buildings remind me of those from 25 years ago. They look half finished and already in disrepair. On the ground levels, there are the usual simple shops. The streets are filled with mounds of trash that remain uncollected. All the while, the children play in and around the trash.
Traffic Madness and Air Pollution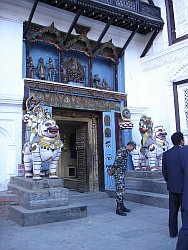 The worst of Kathmandu are the traffic in the streets and the pollution in the air. Where 30 years ago, the New Road (main road in the center) was free of cars and used practically by cows, today the roads are filled with indescribable chaos caused by cars and above all, motorcycles. There is no network of streets and barely sidewalks for pedestrians in narrow streets, which are too small for 2 cars. But there are no rules about one way streets at all, let alone pedestrian zones.
One drives on the left side of the road. But one has the impression that everyone just drives wherever he wants in order to go forward and reach his destination. At least the Nepalese do not drive very quickly. I did not witness any traffic accidents during my 10 day stay. But every time I crossed the street, it was an adventure. To try to do anything on foot, including sightseeing, was stressful and unpleasant.
Because of air pollution, some Nepalese run around with masks. I personally did not feel like I had any problems breathing. Rather, I found it the stench from the lack of a proper sewerage system and the mounds of trash on the street unbearable as 25 years ago. One who is not in top shape will sooner or later start coughing, sneezing and suffer from other problems.
The Economy of Nepal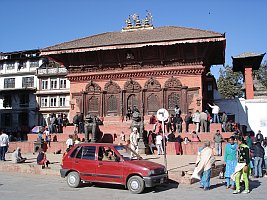 30 years ago Nepal was one of the poorest countries in the world and that has not changed today despite motorization and the construction of many new buildings in the center. The country is not doing well economically.
At one point, tourism and the carpet industry were the main sources of revenue for the country. That has since changed. There are hardly any tourists today in Kathmandu and those that do travel there are the typical backpackers and climbers, who stop in Kathmandu only as long as necessary and then they move on.
As for the carpet industry, it has fallen in the last several years. Today, more income comes from Nepalese guest workers working in Arab countries, who then send the money back home. These transfers have saved the Nepalese administration from bankruptcy. The problem is similar to that of migration workers in China - hundreds of thousands of children grow up without fathers.
Political Situation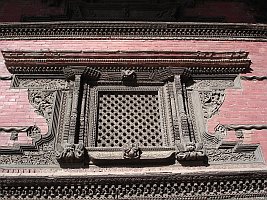 About 12 years ago an obscure political movement of Maoists came into existence, which has since led to a militant civil war especially in rural regions, leading to the deaths of circa 12,000 people since the mid 1990s.
Following the massacre of the royal family in 2005 and the massive democratic movement in June 2006, a cease fire was called with the Maoists. They are today a part of a 7 party alliance in the government. The political future of the country will be decided in the coming April 2008 elections.
The monarchy is de facto disestablished. The royal family has lost all power. International visitors will notice that they no longer arrive on Royal Nepal Airlines rather on Nepal Airlines.
Safety and Security
The Maoists control a great deal of the rural areas. Climbers and trekkers should have no fears as long as they act sensibly. The Maoists have checkpoints, where passing tourists have to pay fees, at most about 100 dollars. You even get a receipt and so when you arrive at the next checkpoint, you can pass through without problems.
During my 10 days in Kathmandu, two bombs went off: one near Durbar Square (one day after I was there), injuring 7 Nepalese. The other went off near the airline office, one day before I went there to have my return flight reconfirmed.
Wealthy Nepalese of the upper class in Kathmandu have at least one guard for their house and family around the clock. The same goes for shopping arcades, banks, hotels and larger businesses.
My Nepalese friends told me to be extremely careful, especially when it came to money. But I never subjectively felt unsettled or in danger. I found virtually every Nepalese to be friendly and polite, like many years ago. And this time, not even the taxi drivers tried to overcharge me. Anyway, I always gave these poor guys more. Taxi drivers will gladly wait and take you on your return journey too. And you don't have to pay extra for that either.
Art and Handicrafts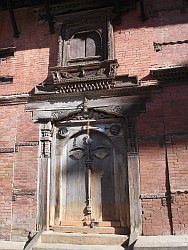 And now to art and handicrafts, the actual reasons for my trip. Before my departure, I was actually not sure about how well the old handicraft capabilities of the Newari (main population group in Nepal) and Tibetans have survived the last 25 years.
In short, there is still the same good old art like before. Although some things had changed, one can still buy excellent works of art and handicrafts, which are still entirely hand made. The prices are low. Regarding the amount of work that is required to create such objects, these art works are still extremely underpaid.
The market is changing, however, on account of the retreating tourism. Nepalese traders, who used to sell their wares at fairs in Europe and North America, have now found a new market: China. A trader and friend of mine told me about brilliant sales at a fair in Beijing. The Chinese especially love the Tibetan thangkas.
Thangkas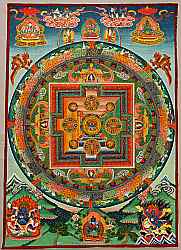 If you go through Thamel (the tourist quarter), you will find a thangkas shop after thangkas shop although one hardly sees any tourists. The quality is mostly middle to good. I was also offered top quality thangkas, but only for sums of 1000 dollars and up. Considering the months of work that go into one of these thangkas, the price is still cheap. But since I was unsure about the artelino market for these thangkas, I decided to pass these up - this time.
The painting style and iconographic thangka themes have changed in the past 30 years. But the painting techniques and the materials used are exactly the same as before. I visited some workshops and bought some thangkas directly from the studios and artists.
Statues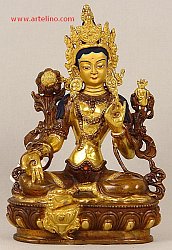 Nothing has changed much either, in terms of the hand made production of statues and the "lost wax" principle. There are differences in the quality of statues. And the prices have as before, rather different ranges when it comes to gold gilded statues. Figures of the rather "wilder" deities, who are not held in high favor among the public, are still difficult to find. Likewise for all unusual representations of the deities.
Because of decreasing tourism, however, very few new statues are made. Also here the new Chinese market is helping to save the old trade of handmade statues. I was told that quite a few Newari craftsmen have since moved to China and are practicing their craft there.
Carpets from Nepal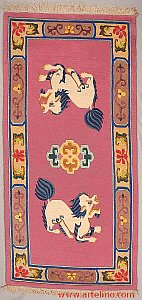 The art of carpet knotting came to Nepal with the flight of tens of thousands of Tibetans after the brutal occupation of Tibet by Communist China in the 1950s and the following oppression.
Tibetan carpets are originally smaller, very colorful and have rich colorful patterns. Tibetans have traditionally used these carpets as bedding layers (hence the size 90cm x 180cm), saddle covers, seat cushioning layers, and prayer rugs, and not as floor decorations as in the case of Europeans or Americans.
At the start of the 1980s, there was a dramatic change in the Nepalese carpet culture. The carpet weavers started to court Western tastes and styles. Above all, large carpets with only simple border designs and no inner patterns in light pastel colors were made. These new carpets had little relation to the traditional Tibetan rugs except for their hand-made quality. With this development, large carpet manufacturers have emerged. The traditional Tibetan carpet was originally a small family trade or business or made in Tibetan refugee camps.
This development to a rather traditional-less carpet production happened very quickly. Simultaneously, prices fell in Germany, the former top importer of carpets from Nepal.
In my opinion, the disorientation of the Nepalese carpet industry has changed very little since then and for that reason, the number of carpets produced in recent years has fallen back.
Traditional Tibetan Carpets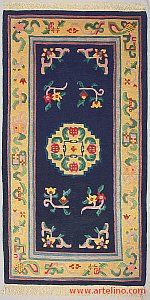 Thank God there are still a few small workshops and Tibetan family operations that make the beautiful traditional patterns. The old skills have not yet died out.
During my 10 day stay in Kathmandu, I managed to directly buy 15 traditional carpets. These will be available in a February 2008 auction. But my main job was to organize a continual production of traditional Tibetan carpets with the help of my old Nepalese friend. Because it takes at least 3 to 4 months before to create a masterpiece of 90cm to 180cm, I expect the next carpets to be available 5-6 months after the first auction.
Antiques
The export of fine antiques older than 100 years is strictly forbidden in Nepal. During my stay in Kathmandu I saw very many expensive shops that sold antique Tibetan furniture and also antique carpets, a few decades old (or aged so).
The prices for the Tibetan furniture were exorbitant. Even small mini chests cost at least $500. Old Tibetan carpets of saddle size cost at least $1,000.
The Tibetan antiques boom was caused by the Chinese market. Tibetan traders in Kathmandu create branches in Lhasa (capital of Chinese-occupied Tibet). Wealthy clients from the West come extra to Kathmandu to buy Tibetan antiques. During my stay someone told me that the famous American actor and friend of Tibet, Richard Gere, recently came to Kathmandu to buy some antique Tibetan things.
Two Practical Tips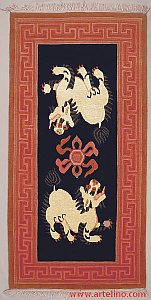 I would like to openly dissuade anyone who wants to visit Kathmandu as a tourist. The old charm is gone. And the traffic chaos and air pollution sucks all the fun out of sightseeing. Additionally there is the delicate issue of safety, which demands an adventurous spirit.
But should you still decide for whatever reason to travel to Kathmandu, then you should stay at Dwarika's Hotel, if you can afford it. This hotel is more like a living museum with great comfort and service. It is without a doubt the best hotel I have ever stayed in. It was established by a Newari named Dwarika Das Shrestha. In the 1950s Dwarika himself began to preserve the old wood carvings of traditional Nepalese houses before their destruction and to collect them in an open and public place. One day he decided to build a hotel with these pieces. And so Dwarika's was founded. But you can read more about that on the hotel's website.
Also, see if you can get a room in the quiet inner courtyard. The hotel is on a loud main street and noise from the street can be loud on the street-facing side.
Kathmandu has two grand book shops for travel literature and for art and culture books: Pilgrim's Book Shop and Tibet Book Shop, both of which are in the Thamel quarter of the city. There you can find books that are not found in the U.S. or in Germany and are difficult to find and get online. I flew into Kathmandu with luggage weighing about 3 kg. But I flew back with 18 kg, the extra weight all from wonderful books about thangkas, old Tibetan carpets and travel literature.
Kathmandu on Google Maps
{mosmap width='500'|height='400'|lat='27.7045'|lon='85.3191'|zoom='12'|zoomType='Large'|zoomNew='0'|mapType='Hybrid'|showMaptype='1'|overview='0'|text=''|lang=''}
Dieter Wanczura in 2008