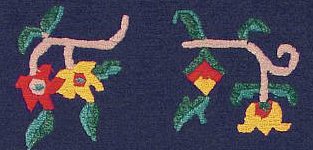 Floral patterns are one of the major design elements on traditional Tibetan carpets. Most of the floral elements are more than just decorative. They have a meaning, often rooted in Buddhism or in the old Tibetan folk tradition.
Floral Elements on Tibetan Rugs
The major floral elements are the lotus, the peony and the chrysanthemum. On carpets they are not always easy to identify due to their rather stylized depiction.
Lotus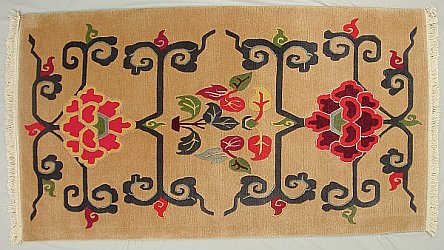 The lotus is an important and precious symbol in Buddhism and stands for purity. Deities and gurus are depicted sitting on a lotus throne. Some of the deities of the Buddhist pantheon like Padmasambhava are said to have been born out of a lotus.
The lotus carpet shown on top of this page is one of the oldest designs in Tibetan rugs. The origins are in the home-made carpets made by Tibetan nomads for their own use. In general, the Tibetan carpet designs can be grouped into the more simple, nomad-made and the more elaborate designs made in workshops in Shigatse, Gyantse and Lhasa by skilled workers for the monasteries and the nobility.
Peonies
The peony is seen as a symbol of good fortune.
Chrysanthemum
The chrysanthemum is the symbol for the joy of life.
Peach
The peach is in cultures influenced by Buddhism a symbol for longevity and eternal life.
Gallery of Floral Design Elements
For your viewing pleasure here are a few floral design elements taken from rugs that we sold or currently have on stock.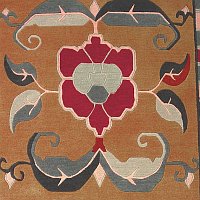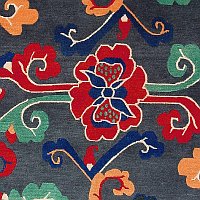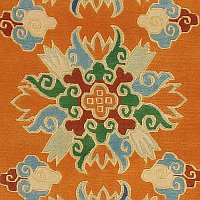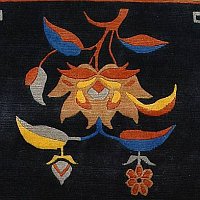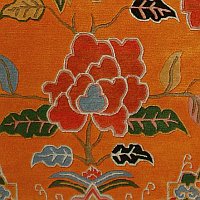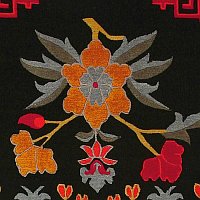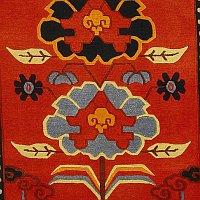 Dieter Wanczura