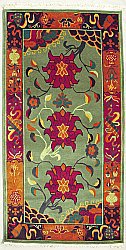 The lotus flower is a well-known symbol in Buddhism. Buddhas and Buddhist saints, gurus, Bodhisattva and alike are nearly always depicted sitting or standing on a lotus throne. The lotus stands for purity and a thousand more meanings in Buddhism.
This little article is about the lotus flower symbol in Buddhism and shows some nice examples from Tibetan and Nepalese arts and crafts.
The Lotus in Buddhist Arts and Crafts
The following images are mostly details taken from Tibetan thangkas, traditional Tibetan rugs and Nepalese Buddhist statues.
Lotus by Day and Night
The lotus is shown in many colors in Himalayan art works. The color white stands for 'pure'. Thus a white lotus is the highest expression of purification. In sanskrit the word Padma means the lotus by day and Utpala stands for the night lotus. Why do they need a different lotus, one for the day and one for the night? I have no idea.
The meaning of the lotus can also vary for the different types of Buddhism (Hinayana, Mahayana, Vajrayana). And finally, there is a difference between an open lotus flower and a closed one. An open flower means full enlightenment (the highest goal in Buddhism), while a closed lotus flower means the potential for enlightenment. That makes sense.
Lotus from Her Shoulders
In many art works you can see a lotus coming out from the shoulder of a deity. The White and the Green Tara are a good example for this iconographic use of a lotus. Also Avalokiteshvara is usually shown with a lotus flower on his shoulder.
The Lotus Born
When writing about the lotus flower in Buddhism, one should not forget to mention Padamasambhava. He was a historical and important figure in Buddhism who lived in the 8th century. This guru and sage was paramount in bringing Buddhism to Tibet in its first diffusion. His name means 'The Lotus Born'. According to the legend he was born as a reincarnation in a lotus blossom. Hence the name. Padmasambhava is a mixture of a historic person and a lot of mythology.
Dieter Wanczura, September 2010.