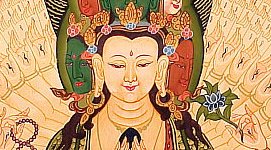 Avalokiteshvara, Avalokiteshvara, ... I had to repeat this tongue breaker name certainly more than a dozen times before I could remember him. Avalokiteshvara is another of these odd deities from the Buddhist pantheon. And in spite of his tongue breaker name, he is very popular among Buddhists, mainly in Nepal.
The Avalokiteshvara Gallery
Avalokiteshvara - an Identity Problem
There are more odd things with Avalokiteshvara than just his name. He can take several apparitions. These are basically two. The easy one is Avalokiteshvara in standing position and with a thousand arms and eleven heads. Friends of Tibetan arts may remember this one well. And there is another appearance of Avalokiteshvara in sitting position and with 4 arms, but only one head.
Avalokiteshvara is at least in Nepal the most popular of the Bodhisattvas.
Isn't That Chenrezig?
You are right. Chenrezig looks exactly the same. And for a good reason. He is the same. Chenrezig is the Tibetan name for Avalokiteshvara. OK - Then let's go to Chenrezig! But before you follow this link, relax and take a look at the small slide show of Avalokiteshvara, respectively Chenrezig images of thangkas and metal statues from Patan, Nepal.
Dieter Wanczura, September 2010.