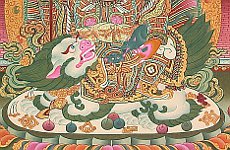 The snow lion is originally a mythological, Buddhist good luck symbol. It has been the official symbol for Tibet since 1909. This article is a short, illustrated wrap-up about the Tibetan snow lion and shows a video of a snow lion dance performed by Tibetan monks in exile.
The Snow Lion - Mythological Symbol of Tibet
The snow lion stands for fearlessness and a cheerful mind. It is not an animal that exists in real nature, although some people see the resemblance with the Tibetan Mastiff or Apso dogs.
Since 1909 the snow lion has been part of the Tibetan flag in various designs. Since the popular uprising of the Tibetans in 1959 against the Chinese Communist occupants, the flag has been forbidden within China. Now it has become a strong symbol among exile Tibetans and for the whole world for Tibetan identity and freedom.
Until 1959 the snow lion was also shown on other symbols of Tibetan independence - on bank notes, stamps, coins and official documents.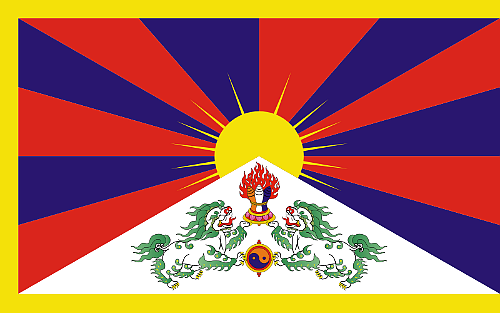 Tibetan Snow Lion Dance
Watch the Tibetan Snow Lion dance performed by exile Tibetans in 2007 in Paris. The show is really cute.
The Snow Lion in Tibetan Arts and Crafts
The symbol of the snow lion as a fortunate symbol can be found on all kinds of Tibetan arts and crafts. Primarily in sculpture and as a decoration in architecture of course. But you will find the cute being also on thangka paintings or on furniture. And last but not least, snow lions are a favorite design element for traditional Tibetan rugs. The snow lion is usually shown in white with a mane in green.
The Cry of the Snow Lion

"The Cry of the Snow Lion" is an impressive, award winning documentary from 2002 about the culture, recent history and the suffering of the Tibetan people since the beginning of the Chinese occupation in 1950/51. For more details about this film with breathtaking images, please see The Cry of the Snow Lion.
Snow Lions and Tibetan Rugs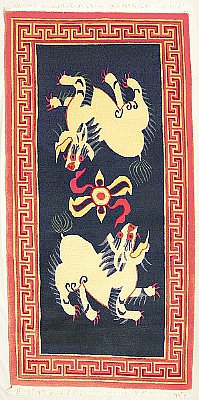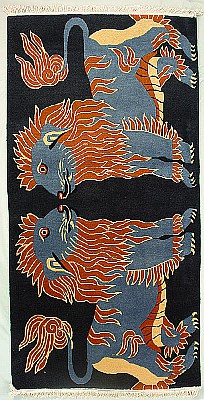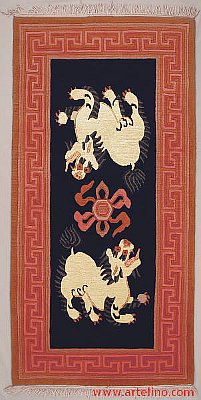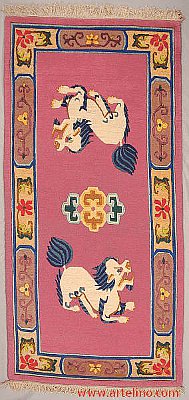 Dieter Wanczura, August 2010.