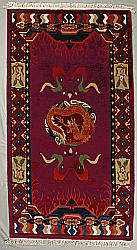 Khaden is the name for bed-size traditional Tibetan woolen rugs of about 3 by 6 feet. Khaden were used by Tibetan nomads as well as by monks in the cloisters for sleeping and sitting.
Origins of the Tibetan Khaden
The Tibetan rug is in its origins a nomad textile. The use for sleeping and sitting is typical for nomads. In an old biography written in the 15th century about the legendary Tibetan guru Milarepa (1040-1123), the yogi is mentioned to sit on a pile of rugs.
The Tibetan weavers use a knotting technique that is not used anywhere else. Therefore it sounds plausible that the knowledge of making rugs was not imported from any other countries like India, Persia or China, but was by and by developed out of the need for textiles as a protection against the harsh conditions of the Himalayan highlands. Tents were presumably among the early forms of textiles.
The khaden was in the beginning a simple rug that was woven for personal use by the nomad families. These nomad rugs were simple in design like for instance the lotus flower carpet.
Demand for more sophisticated designs came from the cloisters and the Tibetan nobility. These carpets were made in the nineteenth and twentieth century in small, specialized centers for rug production in Gyantse, Shigatse and Lhasa. These manufactories employed skilled workers, and a culture of a specialized handicraft with regular apprenticeships developed.
Materials and Making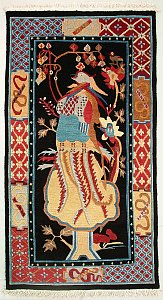 Khaden have been made from sheep wool. The dyes for the wool were taken from natural sources like plants and minerals. Towards the end of the nineteenth century several changes set in. The Tibetans imported synthetic dyes from India and cotton. The cotton replaced the wool for warp and weft. It is stronger and more resilient than wool. As for the dyes, the synthetic colors are by far dominant. But khaden in natural dyes (vegetable colors) are still possible. But the spectrum of colors is limited today.
Designs
Khaden have typical design patterns. But different from Tibetan thangkas there are no strict iconographic rules. The designers and weavers have a wide degree of creative freedom within the spectrum of a traditional rug. Rug making has always been a popular art, while thangka painting has been more regarded as a religious act.
Popular designs are animals, flowers, medallions and many Buddhist symbols. Even abstract geometric designs can be traditional. The symbols used for khaden stand without any exception for good luck, longevity, prosperity and other positive aspects of life.
Khaden from Nepal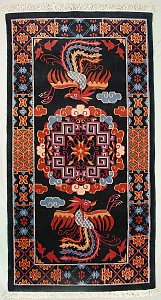 After the occupation of Tibet by Chinese Communist troops in the 1950s and the flight of the Dalai Lama and ten thousands of Tibetans the production of rugs underwent dramatic changes.
Many of the Tibetans settled in Nepal and tried to make a living by making traditional khaden that they sold to tourists. In the beginnings these rugs were made in the traditional bed-size dimensions, colors and designs. But with rapidly expanding business and exports the production of rugs soon turned into the major export industry of Nepal and the original khaden was soon replaced by carpets that were made after Western design tastes and mostly in large sizes.
Germany used to be the number one importing country of carpets from Nepal. And Germans and other Europeans had no demand for khaden as a replacement for beds but for large floor carpets on which they could place a king-size bed in solid oak. And as the design becomes unimportant when it is not seen because it is covered by a bed or a huge table, within very few years the original Tibetan khaden had nearly disappeared.
Fortunately the traditional khaden have not yet died out completely. You can still find them in small shops on the way to Jawalakhel in Kathmandu or in a few shops of Thamel, the tourist quarter. But the Tibetans and Nepalese who still have the skill to create Khaden are becoming older and smaller in numbers. The typical "Tibet" carpet can be knotted by any unskilled Nepalese worker. Although all carpets coming from Nepal are still made by hand, the contemporary designs are so simple and westernized (and boring). They have nothing to do with a traditional khaden.
Khaden by artelino
I made my first trips to Nepal in the late 1970s and since then the fascination with the Himalayan and especially with the Tibetan culture, arts and handicraft has remained alive for me. In 2008 I decided to return to Kathmandu. I met an old friend of mine, a Nepali, owner of a carpet manufactory for three decades, and I decided to set up a project of making and selling traditional Tibetan khaden online with my company artelino which was established with online auctions mainly of Japanese prints in 2001. The rugs are produced after old Tibetan patterns and are designed only for artelino.
I want to emphasize that the working conditions are strictly ethical and for Nepal - one of the poorest countries in the world - even exemplary. My friend is maintaining a private elementary school and a nursery for the children of his workers.
We restrict ourselves completely to the bed-size khaden of roughly 90 by 180 cm = 3 by 6 feet in traditional designs. You will not get any other carpet sizes from us nor any modern designs.
Dieter Wanczura