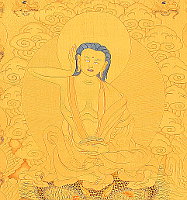 My favorite Tibetan and Buddhist deities are those that I can recognize easily. Milarepa is one of them. His 'trademark' is his gestures of holding one hand to his right ear as if he had a bit of a hearing problem. Milarepa is a character half historical and half mythological.
Milarepa - 1040-1123
Milarepa was a poet, guru, magician, a repentant murderer, a cave recluse and a good (according to his biographer) singer. His teacher was Marpa.
The Evil Uncle
Milarepa grew up with his mother and sister under the tutelage of an evil uncle after his father had died. The greedy uncle took possession of the family's considerable property, but neglected Milarepa, his mother and sister. Milarepa on advice of his mother learned black magic to kill his uncle. And he was successful in poisoning him.
The Green, Emaciated Hermit
But after his revenge, repentance came. Milarepa became a student of the guru Marpa and retreated for six years meditating in a walled-off cave with hardly anything to eat. He became terribly emaciated. Most of his food was nettle soup. His hair and his skin took a green color from his nettle diet. Therefore you often find Milarepa depicted in pale green colors.
Marpa's Magic Scroll
His teacher Marpa had given his student a scroll with the instruction to open it only if he should find himself in a life-threatening situation. Finally Milarepa opened the scroll when he had the feeling that his meditation did not take him any further. The scroll advised him to eat again. And from eating normal food, Milarepa gained new strength and a new level of awareness that enabled him to perform all kind of magic like flying.
What about that Hand at His Ear Gesture?
In some books one can read that Milarepa enjoyed his own singing, and in others that he listens to the sound of silence. My own, and absolutely profane and in now way scientifically based contribution is the suspicion that he had become a bit hearing impaired.
His Final Hours
Milarepa had become rather old for his time and regarding his long years of voluntary malnutrition - 83 years. He had surrounded many students around him and someone was envious and poisoned him. It is said that he ate the poisoned food in full knowledge of what he was doing. His last words was singing. Buddhists believe that Milarepa had reached Nirvana, the final enlightenment.
How Do We Know?
Shortly after Milarepa's death one of his students wrote his biography. By then the Tibetans had already developed their own writing characters long ago.
Milarepa - the Film (2006)
The story of Milarepa was filmed in 2006 in the Western Himalayas of Zanskar in the Indian-Chinese border region. It is an all-Tibetan film with a Tibetan director and a Tibetan cast. The release was worldwide. But in spite of its attention grabbing US title 'Milarepa: Magician, Murderer, Saint' it could not become a blockbuster. The film has some fantastic imagery.
Dieter Wanczura, May 2010