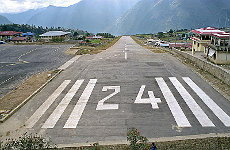 This articles shows a video of two landings and two take-offs on just one runway within just 4 minutes at Lukla airport in the high mountains of the Himalayas in the Khumbu region in Nepal.
The video is only seemingly funny with no accident happening. If you are an avid traveler but have never been to Nepal, you get a rough idea of what you should be prepared for.
Lukla Airport, Nepal
STOL - Short Take-off and Landing
Lukla airport, officially Tenzing-Hillary airport, is at an altitude of nearly 2,900 meters. The runway is only slightly more than 500 meters long and has a 12% grade. At the end of the runway is a 700 meters deep precipitation into the valley. Lukla airport is one of Nepal's numerous STOL (short take-off and landing) airstrips. These STOL runways used to be just muddy grass strips. Lukla airport now has an asphalt airstrip since the late 1990s.
Only very robust planes with short landing and take-off capabilities can use Lukla airport. Dornier D228 and Canadian Twin Otter planes are the popular standard air planes used in Nepal under STOL conditions.
Starting Point for Mount Everest Treks
Lukla airport is the starting point for treks in the Mount Everest region. With up to 500 starts and landings per day it is one the busiest STOL airports in Nepal. Due to the extreme terrain, flights can only be undertaken with good visibility. Lukla airport is infamous for its accidents which all occurred during landing. In 2008 eighteen people died when the pilot of a Twin Otter plane tried to land under foggy conditions. The plane approached slightly too low and crashed against the steep hill. Among the victims were 13 German trekkers who had booked a Nepal hike with a well-known tour operator specialized in worldwide trekking adventures.
Stuck at Lukla under Bad Weather Conditions
Another severe problem for which Lukla is infamous, are the conditions that arise when due to bad weather no flights are going out and hundreds of tourist trekkers are stuck at the airport and fight for a seat on an airplane. I remember from the 1970s and 1980s that there were even reported cases of deaths because trekkers who had fallen ill with acute high altitude disease could not be flown out on time from a STOL airstrip for proper medical treatment.
Duration: 4:40 minutes.
Dieter Wanczura in May 2010