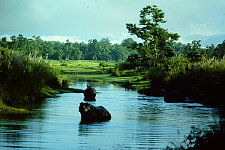 If you just want to experience a wildlife park, I would probably give such places like Kenya or Tanzania or South Africa the first preference.
But if you happen to be in Nepal and have enough time or if you want to get away from the noisy, polluted Kathmandu valley, then Chitwan National Park in Southern Nepal is a good option. Read the article and watch the video.
Chitwan National Park in Nepal
The Chitwan National Park is located circa 175 kilometers south of Kathmandu in the lowlands of Nepal known as the Terai. The park covers roughly a 1,000 square kilometers, and was established in 1973. The embedded video provided by Celtic Video gives a good impression of what will expect you at Chitwan National Park.
How to Experience the Park Best
When you consider visiting Chitwan National Park, you will most probably start from Kathmandu. In my view the best, easiest and most rewarding way to experience the park is a package tour that combines river rafting down the Trisuli with a stay at Chitwan National Park.
River Rafting on Trisuli River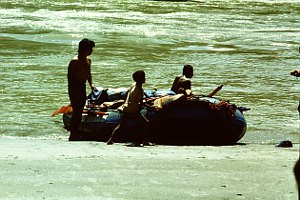 I had booked the Tiger Tops Jungle Lodge in a package with river rafting in the early 1980s and I was not disappointed. What we received for our bucks was impressive.
We had booked it during the monsoon off-season, were only in two and were provided with a service that could make you feel like an Indian Maharadja.
A jeep with a driver and two young row men picked us up from the hotel very early in the morning. Then it went down the Trisuli river on a raft. Even during the monsoon period this was not an adventurous, wild white water ride, but more a quiet floating with the exception of a few rapids that provided some good excitement.
Explore the Park on an Elephant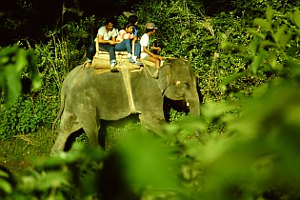 In Chitwan park we slept in very comfortable large tents. The best way to go into the jungle is on the back of an elephant. Apart from the fun of the elephant ride it is also the safest way. Neither rhinos nor tigers will attack an elephant.
Expect to see a lot of rhinos during your jungle excursion, but it is rather improbable that you will spot a tiger, although there are some in the wildlife park.
What not to Do
You should not explore the park on your own. It is too dangerous. If you want to walk, hire a ranger to accompany you.
Eco Tourism
Visiting Chitwan National Park is in my view responsible eco-tourism. With your bucks you support the preservation of a valuable wildlife area that is on the UN world heritage list and you provide hundreds of local people with an income. And you can enjoy an experience that you will not forget for a lifetime.
Dieter Wanczura, May 2010.
Related Articles
Slide Show from the Terai in Nepal