Want to listen to Tibetan music while sitting in front of your monitor?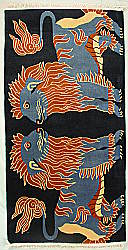 Go to www.phayul.com, the Tibetan portal from Dharamshala.
Click on an audio player icon, like for instance Windows Media Player.
Confirm by OPEN
Click on the PLAY button.
You can minimize the media player browser window so that is not in your way.
Continue surfing the internet or doing your work while you listen to Tibetan music.
Enjoy it! .. and if you like it, leave a comment.
Dieter Wanczura