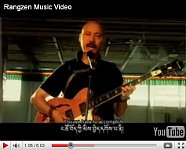 Rangzen Shonu is a legendary Tibetan rock band in exile that released a new sound in Tibetan music in 1987. Although the group does not exist any longer, their compositions, lyrics and their spirit have continued to dominate the scene of Tibetan exile pop music. The word Rangzen has now become a synonym for the fight of Tibetans for freedom and independence of Tibet from Chinese occupation and oppression.
Rangzen Song
Listen to this beautiful song and watch scenes from the courageous protest of the Tibetan people that outburst in Lhasa and many other towns of Tibet in 2008 and was supported by worldwide protest by Tibetans in exile. The singer is Paljor Phurbatsang, one of the founders of Rangzen band.
Tibetan Rock'n Roll
Tibetan Rock'n Roll is still little known among Westerners. When I heard for the first time a song by Rangzen, I was surprised. Tibetan rock and pop music is a refreshing new sound of its own. It feels like a mixture of melodious, traditional Tibetan folk chanting and good old Western rock music of the 1970s and 1980s.
Rangzen Shonu - a Tibetan Music Legend
The three members of Rangzen rock band were Tenzin Choesang, Norbu Choephel and Paljor. All three band members were from Dharamsala, the exile residence of HH the 14th Dalai Lama and many Tibetan refugees since 1959. The songs were written by Professor Ngawang Jinpa. Rangzen Shonu does not perform as a band any longer. I do not know why and when they stopped playing together. But today the group and their songs are a legend among Tibetans.
The band has a homepage on www.rangzenshonu.net, the source of this information. On Youtube™ you can find many songs by Rangzen Shonu, performed by different Tibetan singers.
Dieter Wanczura, June 2010.