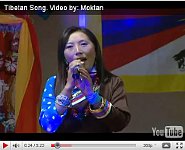 From a live concert in New York organized by Tibetan Women Organization. Beautiful Tibetan pop-folk song.
Watch this music video.
Concert in NY - by Tibetan Women Association
The video was recorded in 2008 at a concert in New York, organized by the Tibetan Women Organization. An unknown Tibetan woman sings a modern Tibetan song. If I am not wrong the song is a composition by song writer Phurbu T. Namgyal. The tune is beautiful and so is the Tibetan singer in her traditional Tibetan costume.
By tradition women in Tibet have been rather liberated, quite different from most Asian societies.
Dieter Wanczura, in May 2010.