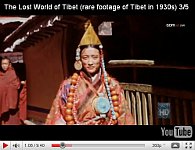 Part 3 of this documentary by BBC in cooperation with the BFI (British Film Institute) Archives shows more rare footage from Lhasa. Most of the film documents were shot by the person in charge of the British mission in Lhasa.
Part 3 shows more splendid festivals that seem to come from another planet, and it ends with the occupation by the Chinese army in October 1951 (Lhasa).
Images from a Medieval Society
One can see fantastic religious festivities and scenes from a medieval society. The New Year Festival, warriors on horses with long lances, a wrestling and other sports tournaments, a procession of the state oracle, bonfires or a picnic with the Potala Palace in the background. The aristocracy wears splendid, colorful costumes
Dangerous Sky Dance
One of the major events was the annual summer opera festival. Another highlight was the Sky Dance, a dangerous performance of a single person dancing on a very high pole. In other scene you can see long processions of monks with green drums or horse and foot races.
The 17 Point Agreement
At the age of 16 the Dalai Lama took office as the high ruler of both, the state and the religious leader. One of his first decisions was to send a delegation to Beijing to take up negotiations. The Dalai Lama himself, together with the Panchen Lama visited Beijing and met with Mao Zedong and Chou Enlai. He then was 18 years old.
Finally a 17-point agreement was signed with the Chinese, but without the Dalai Lama's consent. At least, this agreement would have assured the Tibetan people cultural and religious autonomoy. But it has never been kept by the Chinese.
Dieter Wanczura, August 2010.