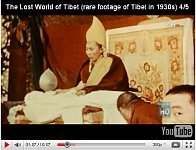 Part 4 of the BBC and BFI documentary covers the period of growing tensions after the Chinese occupation of Tibet in 1950. The Dalai Lama, in spite of his young age took office in 1950 at the age of only 16. In 1954 he decided to travel to China to meet the top Chinese leaders.
Public Examinations of the Dalai Lama
In spite of the heavy burden as the worldly leader of his people, the Dalai Lama also had many spiritual responsibilities and had to pass several exams in front of high ranking Buddhist teachers in accordance with old traditions. The film covers these public examinations and a Kalachakra initiation at Norbulingka Palace.
The Young Dalai Lama in Office
While the tensions with the Chinese grew, the 14th Dalai Lama took his final exams. In hindsight the Dali Lama comments these exams as very tough. After having been tested at the monastic universities of Drepung, Sera and Ganden, the final exam took place at the Jokhang in Lhasa. His Holiness passed the exams with honors in front of a vast crowd of monks and scholars.
Travel to Beijing
In 1954, at the age of 20, HH (His Holiness) went to Beijing. He was accompanied by the Panchen Lama, the second highest leader in the religious hierarchy of Tibet. They met Mao Dzedong, Chou Enlai and Deng Xiaoping.
Bad News from Eastern Tibet
The situation with the Chinese soon became more and more tense. From the Eastern Tibetan provinces of Kham and Amdo bad news arrived about oppression, forced land reforms and uprisings of the people. Refugees from the East streamed into Lhasa.
Dieter Wanczura, September 2010.