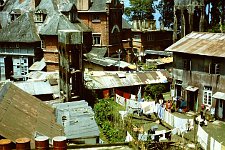 Slide Show of Darjeeling in Northern India. The photographs were taken in 1982. I was traveling to Darjeeling from Kathmandu by bus, jeep. Not really funny. My original intention had been to visit the former small Himalayan kingdom of Sikkim. Somehow I even had attained a special visa permit for Sikkim. But I abandoned the destination Sikkim and decided to head for Darjeeling.
Darjeeling
Darjeeling is famous for its tea which the British had begun to plant here in the 19th century. Before, the importance of Darjeeling was as a trade post along an important route between Tibet and India. Due to its high altitude of circa 2,000 meters above sea level and the cool but mild climate in the proximity of the Himalayan mountains, the British used Darjeeling as a resort.
From Siliguri to Darjeeling
I visited Darjeeling in 1982. I took the bus from Kathmandu to Siliguri, the eastern border station between Nepal and India. From there you had to make your way somehow to Siliguri by jeep, and from Siliguri in India you could get to Darjeeling by bus or by an old train. The train ride may be romantic but it took from 6 to 10 hours, while the bus was there in 3-4 hours. In 1999 the train was taken on the UNESCO world heritage list. Its meaning is now of pure touristic nature.
Old Colonial Houses
Darjeeling gave the impression of an old colonial resort. But the once splendid hotels were in a state of decay. The town was mainly frequented by Indian tourists. A little bit outside you could find a Tibetan refugee center.
Places of Interest in Darjeeling
There is not too much to do in Darjeeling. There is a nice walk around Observatory Hill with a good view into the Himalayan mountains. You can visit the Tibetan Self-Help Refugee Center and an old Buddhist cloister. When you make a walk down into the tea hills, you should not forget that you have to climb all the way up again.
Another attraction is to watch the sunrise at Tiger Hill. I had to get up in the middle of the night and got there by jeep. Unfortunately it was rather cloudy and it was not worth the effort. But afterwards I enjoyed my English breakfast more than ever.
Tenzing Norgay
Tenzing Norgay who was together with Edmund Hillary the first to reach the summit of Mount Everest, died in Darjeeling in 1986. He was the head of the Himalayan Mountaineering Institute.
Gorkha Land
There is a political movement of Nepali from the ethnic group of Gorkhas fighting for an independent or at least autonomous "Gorkha Land". The movement has caused some attention and some trouble over the last decades without really changing much. Darjeeling with its large population of Himalayan ethnic groups like the Nepali or Tibetans has remained a part of the Indian state of West Bengal with its regional capital Calcutta.
Darjeeling Train
The following video embedded from Youtube is an amazing computer animation of the famous Darjeeling train from Kurseong to Darjeeling. Thanks to the Trainz Team that created this realistic simulation.
Darjeeling on Google Maps
{mosmap width='500'|height='400'|lat='27.0443'|lon='88.2653'|zoom='12'|zoomType='Large'|zoomNew='0'|mapType='Hybrid'|showMaptype='1'|overview='0'|text='Darjeeling'|lang=''}
Dieter Wanczura in May 2010