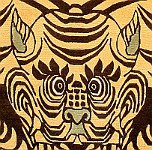 Reports about a wild snowman, a huge creature half man and half animal, living in remote and high altitude places of the Himalayas are at least 2,000 years old. Yeti was already described by the Roman writer and historian Plinius the Elder. But up to our days no hard evidence has been found. But speculations continue.
Yeti - the Abominable Snow Man
In 1921 a British expedition under Colonel C.K. Howard-Bury had seen huge footprints on an altitude of 6,500 meters on Lhakpa pass.
In 1951 a Mount Everest expedition with Eric Shipton discovered and photographed huge footprints in the snow of Menlung Glacier. This gave new impetus to the legends and discussions about Yeti, the 'abominable snow man'. Since then many expeditions have been sent to the Himalayas to find the legendary Yeti. But none of the expeditions could succeed in coming back with a convincing proof of Yeti's existence..
Edmund Hillary and Tenzing Norgay on the Snowman
Other reports about Yeti go back to famous mountaineers Sir Edmund Hillary and his companion Tenzing Norgay. In 1953, while on an Everest expedition, they discovered huge footprints.
In Khumjung monastery a scalp attributed to yeti was preserved. On initiative of Sir Edmund Hillary the scalp was scientifically examined by Western experts. It turned out to be from a mountain antelope.
... and Finally Reinhold Messner
Of course, in a discussion about Yeti, the abominable snow man, Reinhold Messner cannot be missing. He even wrote a book titled 'My Quest for the Yeti'. Messner says that he had a close encounter with the 'Yeti' who in his opinion is actually a brown bear.
But what about the Footprints?
Wrapping up all the reports of Yeti sightings, one thing remains mysterious. A number of well documented and photographed foots prints in the snow that experts could not assign to any known primates.
The Abominable Snow Man
The extensive discussions and the involvement of such a reputable personality like Edmund Hillary initiated an avalanche of media interest. Several popular films, books and even comics have since been published about the Yeti. The tourist industry has jumped on the train of popularity. The 'Yak and Yeti' Hotel in Kathmandu or 'Yeti Travels' are just two examples.
Yeti Expedition on Video
One can find a lot of videos about Yeti, the abominable snow man on Youtube™. But most is simply crap. I found the below video quite useful.
Dieter Wanczura, June 2010.