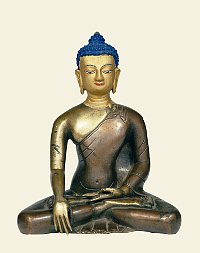 This page presents a color slide show of 108 Buddhist unique statues from the Jokhang Temple in Lhasa. The images were published in 2009 with a book titled the 'The Jokhang Bronzes' by Ulrich von  Schroeder. See the literature reference at the end of this article.
The Jokhang Bronzes - Slide Show
In addition to the book publication these images and others were made available on a DVD attached to another book by Ulrich Schroeder titled '108 Buddhist Statues in Tibet'. The images on this DVD, with the expressive consent by the author, may be downloaded from the DVD for further publications. I decided to make them available on this web site for their unique and rare character.
My acknowledgement goes to Mr. Ulrich von Schroeder for making these great images available.
About the Jokhang
The Jokhang is one of the most important Buddhist landmarks in Tibet. Its origins go back to the 7th century when under King Songtsen Gampo Buddhism came to Tibet for the first time. It is said that the initiative for the construction of the Jokhang had come from the Chinese Princess Wencheng, a Buddhist. Songtsen Gampo had married her and a Nepalese princess for political reasons. Under Songtsen Gampo the Tibetan empire reached to Northern India in the South, Mongolia in the North and into some Chinese provinces in the East.
During the Cultural Revolution (1966 until circa 1976)  initiated by Mao Zedong, the interior of the Jokhang was badly damaged, statues destroyed or looted. Parts of the temple was used as a pig stable, other parts as quarters for Chinese soldiers. After 1980 restoration of the building and the interior began.
The Jokhang was declared a UNESCO world heritage site.
Literature Reference
The Jokhang Bronzes - Jokhang, Tibet's Most Sacred Buddhist Temple, Ulrich von Schroeder, edited by Gyurme Dorje, ISBN: 978-0500976-920; London: Thames & Hudson, 2009.
108 Buddhist Statues in Tibet - Evolution of Tibetan Sculptures, Ulrich von Schroeder, Serindia Publications, Chicago, Visual Dharma Publications Ltd., Hong Kong, ISBN 978-1-932476-38-5.
Buddhist Statues in our Shop
If you are interested in seeing recently made Buddhist statues from Nepal, take a look at our shop of Nepal statues.
Dieter Wanczura, July 2010.