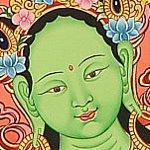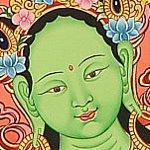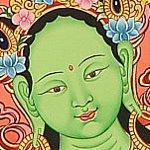 The Green Tara is very popular among Tibetan and Nepali Buddhists. "Tara" means "savior", and she is considered a benign being that is always ready to help others and assist those in need. No wonder that the Green Tara is found frequently depicted on all kinds of objects of arts and crafts.
Green Tara - Thangka Images
Green Tara - Queen of the Night
In her endeavor to help people the Green Tara fortunately is not quite alone. Side by side and on equal level in "pantheon hierarchy" as well as popularity stands the White Tara. Both are very similar except for the color - green and white just as the name says. These two girls assist each other in a kind of job sharing. The Green Tara is associated with night, and the White Tara with day. Both females are believed to fulfill wishes.
A Nepalese Princess?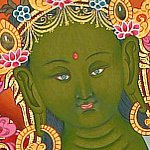 According to Buddhist mythology, the Taras were created out of the tears of the Bodhisattva Avalokiteshvara.
But the actual origin for the characters of the Green and the White Tara may lie in two real, mortal figures in history. King Songtsen Gampo (617-649) had created a huge Tibetan empire that reached as far as Nepal and Eastern China. The King's empire building was based on a combination of military power and smart policies of marriage and alliances. He had married a Nepali and a Chinese princess. Both princesses were practitioners of Buddhism. It is believed that the Nepalese princess with her darker skin was the source model for the Green Tara and the Chinese princess for the White Tara.
The Good Girl of Compassion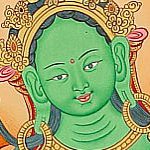 The Green Tara is in Buddhist belief a so-called Bodhisattva. These are beings that have reached enlightenment (Nirvana) but voluntarily remain on earth to assist other humans to attain the same state. Thus Bodhisattvas are by their very nature benign, helpful beings whose main purpose of earthly existence is to help others with their compassion.
How to Recognize the Green Tara
The Green Tara can be easily recognized by the green color of her complete body and face. She is shown as a beautiful, well-shaped young girl with a thin waist-line. She is usually shown amidst a lotus lake in sitting position, half cross-legged with her right leg hanging down. It is said that the Green Tara keeps this position so that she can jump up fast at any moment to help others who are in need. In her left hand she holds a lotus or water-lily which is often of blue color.
Drölma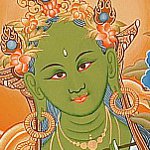 In the Tibetan language the Tara is known as Drölma or Dölma or Dolma. There are by the way overall 21 manifestations of Tara in all kinds of colors. But in terms of popularity the other 19 are just supporting actors in the Buddhist pantheon.
Dieter Wanczura, May 2010