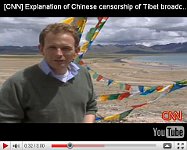 Ralitsa Vassileva and Richard Holmes from CNN report about the censorship methods of Communist Chinese authorities on broadcasts about Tibet and anything related to Tibet like the Dalai Lama. The report speaks for itself.
Chinese Censorship on Tibet
Chinese propaganda is very active in Western media, including Youtube™ to discredit the Dalai Lama and suppress the truth of what has happened in Tibet since 1951. But Chinese communist propaganda and censorship cannot fool the world nor their own people for ever. When you look back into history, censorship and propaganda by totalitarian regimes have never prevailed. Not for Nazi Germany, and not for Soviet propaganda during the Cold War.
Dieter Wanczura, June 2010.