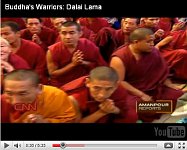 CNN documentary from 2008 by Christiane Amanpour about the Dalai Lama and the Tibetan people. It is one part from a series titled 'Buddha's Warriors'. The meeting and interview took place at Dharamsala, the Indian exile residence of the Dalai Lama in Northern India.
After the dramatic flight to India in 1959, the Indian Prime Minister Nehru granted asylum to the Dalai Lama and ten thousands of Tibetan refugees in spite of political tensions with Communist China.
Interview with Christiane Amanpour
There is hardly an interview with the Dalai Lama that does not start with the question of his status like:
"Are you a God?"
"Are you a reincarnation of the Buddha?"
The Dalai Lama's answers are always the same. He points out that he is a normal human being, and that his position is that of a teacher, a simple Buddhist monk among thousands of other monks.
March 10, 1959
During the interview the Dalai Lama mentions how he fled Lhasa in 1959. His escape was indeed dramatic. After rumors had spread in Lhasa that the arrest of the Dalai Lama was imminent, about 30,000 Tibetans had gathered around the Norbulingka Summer Palace to protect him. During the night he could get out of the palace and escape disguised as a soldier. Tibetan Khampa warriors escorted him to safety across the Himalayan mountains from March 10, 1959 until March 31. See the escape of the Dalai Lama with rare film footage.
Dieter Wanczura, June 2010.