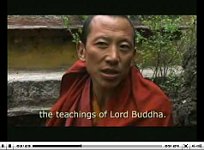 Film coverage by Explore about Tibet and Tibetan Buddhism. You see Lhasa, the Tibetan capital with the Potala Palace. And get an insight of the daily life of monks at a Tibetan monastery.
In an interview with one of the monks, the essentials of Tibetan Buddhism are explained in an easy to understand way. The focus of Tibetan Buddhism is on compassion.
Lhasa and Tibet
This is an open source movie by Explore team with film coverage of the Potala Palace and the Jokhang Temple in Lhasa, the Tibetan capital. The team also visits Sera monastery. Producer Link Media Inc., 9:24 minutes long.
The second part is an interview with a Buddhist monk. It is especially interesting because it is basically like a wrap-up of the essentials of Buddhism.
The third part shows an Internet cafe crowded with young Tibetans. By nature Tibetans are open-minded, efficient and hard-working people who understand to combine modernism with tradition.
Duration: 9:24 minutes.
Dieter Wanczura in April 2010.