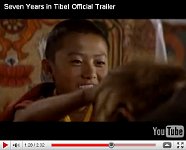 Seven Years in Tibet is the title of a book written by Heinrich Harrer, an Austrian mountaineer and adventurer about an incredible but true story of spending seven years in the then forbidden country of Tibet from 1944 until 1951. In 1997 a popular film was produced with Brad Pitt playing Heinrich Harrer under the direction of Jean-Jacques Annaud.
7 Years in Tibet - Official Trailer
The Popularity of the Book
I remember how much I was fascinated with Heinrich Harrer's book Seven Years in Tibet as a young boy. The world was different then in the 1950s and early 1960s. The first satellite had been launched by the Russians in 1957. But it was still a long way to go before the earth could be viewed from above, let alone being accessible for everyone by Google Maps™ with a few mouse clicks. And believe it or not, maps on paper showed a lot of white space, marked as "unexplored".
Tibet then was the mysterious, forbidden country in the Himalayas that no foreigner had seen before except for a few British diplomats and very few explorers like Sven Hedin who had never been able to enter Lhasa, the Tibetan capital. And now there was Heinrich Harrer and Peter Aufschnaiter and their  story of adventures beyond imagination. The book became a huge success and was translated into more than 50 languages.
Heinrich Harrer - the Sportsman and Mountaineer
Already in his youth the Austrian Heinrich Harrer, born in Graz in 1912, had made himself a name as an exceptional sportsman (skiing, golf, tennis and more) and mountaineer. In 1938, in a team of four, he was among the first to climb the infamous North Face of the Eiger mountain in Switzerland.
Nanga Parbat Expedition
In 1939 he was selected for a German expedition team to the Nanga Parbat mountain. On the way back to Germany, but while still being in India, world war II broke out. The group was arrested by the British and kept in an internment camp in Northern India.
Flight to Tibet
On April 29, 1944 Harrer and Peter Aufschnaiter can escape from the camp. On January 15, 1946,  after an arduous journey by foot of 2,000 kilometers over the Himalayan mountains with passes as high as 5,000 meters, the two men arrived in Lhasa, the Tibetan capital. Against all odds nobody recognized them or held them back when they entered the forbidden capital through the main gate.
Teacher and Friend of the Dalai Lama
Harrer and Aufschnaiter are allowed to stay in Lhasa. They make a living in the service of the Tibetan government, Heinrich Harrer as an interpreter and photographer, and Peter Aufschnaiter as an engineer for irrigation, sewage and cartographic projects. The men were integrated into Lhasa's nobility and Heinrich Harrer even became a teacher for the young 14th Dalai Lama, born 1935. It is the beginning of a life-long friendship between the two men.
Chinese Occupation
In 1950 Chinese communist troops invade Eastern Tibet. In 1951 the Chinese occupy Lhasa. The situation becomes more and more critical. Heinrich Harrer leaves Lhasa in a caravan loaded with treasures of Tibetan ethnological objects and artifacts that would later become the stock of the Heinrich Harrer museum in Hüttenberg, Austria. Heinrich Harrer died in 2006 at the age of 93 in Austria.
Dieter Wanczura in May 2010.