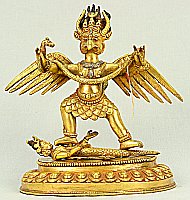 Garuda is a bird-like creature with huge wings that is common in Hindu as well as Buddhist mythology. It is a popular symbol for art objects in India, Nepal, Ceylon, Indonesia, Mongolia and other countries.
Among metal statues made by Newari artisans from Patan in Nepal, one may discover a Garuda statue every now and then, although they are not too often made in these days anymore.
Garuda in Hinduism and Buddhism
Garuda is more widespread in Hinduism than in Buddhism. In Hinduism this odd birdie serves as the mount of the Hindu god Vishnu. In Buddhism he serves a minor role, as a transportation vehicle for Amoghasiddhi, one of the Dhyani Buddhas. That may be a nice job, but compared to serving Vishnu it is a bit low in rank.
Garudas and Nagas
Nagas are serpent-like beings. You may guess it. Garudas do not like Nagas and vice-versa. The Garuda birds even chase the Naga snakes and try to kill them. Take a look at the image of the Nepal statue on this page, and you will recognize how Garuda tramples on a poor Naga. At the same time he is holding a real serpent firmly in his hands.
Garudas in Tibetan and Nepalese Arts
I cannot remember ever having seen a Tibetan thangka showing a Garuda being. But metal statues of Garuda made in Patan, Nepal, can be seen every now and then. This is not astonishing as demand for these all-handmade metal figures has always come from Buddhists as well as Hindus.
By the way, there does not seem to be a strict iconography for Newari artisans of what a Garuda should precisely look like. I have seen all kinds of odd creatures. In contrast to some other deities, the degree of freedom seems to be rather large for the artisans regarding the Garuda character. Fantasies unlimited!
Garuda Gallery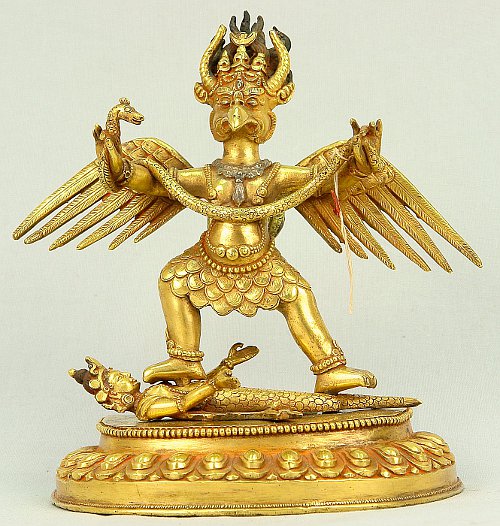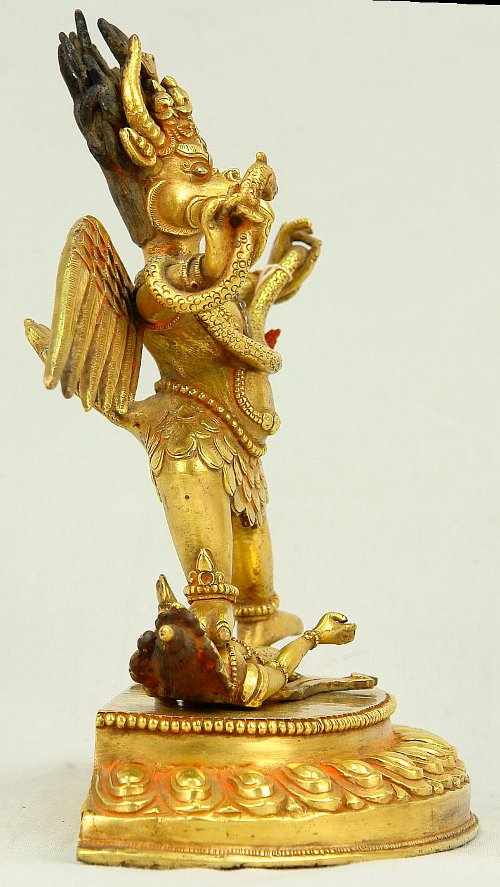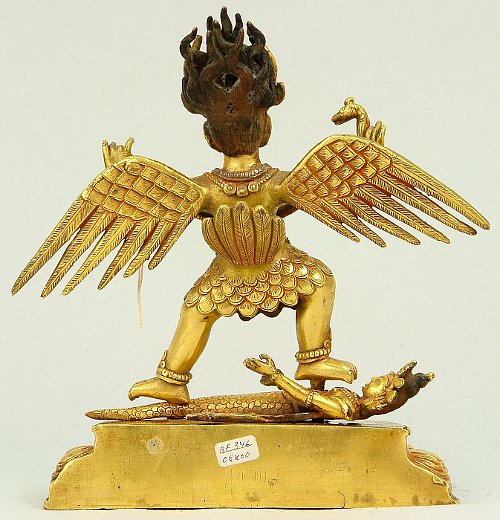 Dieter Wanczura, August 2010.