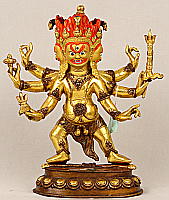 This Youtube video shows in two parts how traditional metal statues are created in Nepal. It is incredible how this is all done by hand, just as it has been done the same way for centuries. The film is presumably a unique document as it shows a craft that has in my view lost in quality over the years due to significant changes in market demand. I am afraid it is doomed to disappear.
Buddha Statues from Patan in Nepal
Credit to the Film Maker
My credit goes to the maker(s) of this film. It was uploaded to Youtube by people referring to a website of artists and Buddhist practitioners - see www.wisdomworkers.org
Rupas
The authors named these two videos Rupas. The word comes from Newari and means as much as 'form'. It is a word seldom used for this kind of metal statues made in Nepal.
More often you will find names like Tibetan Statues or Nepal Statues or Buddha Statues. The term 'Tibetan Statues' is basically wrong. The art of making these metal statues by the method of 'lost wax' has been a domain of a few Newari families from Patan in Nepal. And their works have been appreciated and imported by Tibetans for centuries. But the origin of the craft lies in Nepal and not in Tibet.
What about Buddha Statues?
The most misleading expression is the use of 'Buddha Statues'. The word has probably been propagated by Western tourists. It is stupid as figures depicting Buddha are actually only a small part of the wide variety of statues created by Newari artisans. But Western tourists tend to avoid all wrathful deities, and secondly for most of ignorant Westerners any figure sitting cross-legged on a lotus throne is presumably a "Buddha".
A Craft Doomed to Die
Judging from my personal experience with arts and crafts from Nepal since the late 1970s, I am afraid that this century old craft is doomed to die. Definitely the quality has come down over the last decades. And this has a number of reasons:
With the destruction of monasteries in Tibet by Communist China a former major source of demand has nearly seized to exist.
In the 1960s a shift in demand from Buddhist practitioners to tourists has taken place. It meant a shift from quality to cheap and a shift from a huge variety of Hindu and Buddhist deities to a few, more easy to produce, simple patterns of Buddha and Tara statues.
The political unrest and the Maoist civil war lead to a sharp decline of Kathmandu Valley tourists. I am in close contact with quite a few Nepalese friends of mine who are in the handicraft business and have shops in Kathmandu or have a handicraft export company and who have participated in overseas fairs for decades. Everybody confirms that the demand by Westerners for Rupas has come down over recent years.
Articles about Nepal Statues
On this web site you find a number of articles on Nepal statues with descriptions of the process of creation, history and so on. I therefore do not add any more explanations on this page. This video and its second part have some technical quality problems and the English pronunciation of the Austrian speaker is a bit difficult to understand. But it is a thorough, unique and wonderful documentation of a dying craft.
Dieter Wanczura, May 2010.