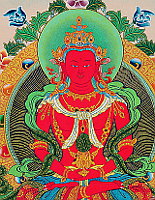 This article is another 'easy to understand, easy to read' introduction to the more frequently depicted gods and goddesses of the Tibetan and Buddhist pantheon. This page is about Buddha Amitabha, always shown in red.
Amitabha - the Buddha in Red
For beginners to Tibetan culture and Buddhism it is a good idea to keep things simple. Many of the popular deities have some unmistakable characteristic. For Amitabha it is the color of his body and face. Just remember: Buddha in Red = Amitabha.
There is a small correction I have to make, respectively a little note I have to add. You may encounter red Buddha images, and below the image you find the name Amitayus. Another Buddha in Red? Grrrrr! Fortunately not. It is the same guy, more or less. If you want to learn about Buddhism and Tibetan culture, keep things simple! In this regard you can learn a lot from the 14th Dalai Lama, by the way.
What Does Amithaba Stand For?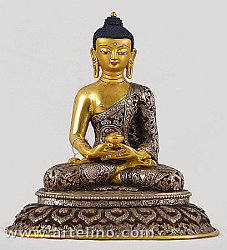 Amithaba is the Buddha for 'Infinite Light' or 'Boundless Light'.  I guess that does not really mean much to you. Nor does it to me. But I can tell you that Amithaba is very important in a sect mainly spread over East Asia that is called 'Pure Land sect'. And apart from that Amithaba should simply be recognized a bit because you will find him often depicted on Tibetan objects of arts and crafts like thangkas or statues.
Amithaba and the Panchen Lama
The Panchen Lama, the second highest rank for Tibetan Buddhists after the Dalai Lama, is considered a reincarnation of Amithaba. The 10th Panchen Lama, 1938-1989, remained in China/Tibet when the Dalai Lama went into exile. The Chinese tried to instrumentalize him for their purposes. During the Cultural Revolution he was imprisoned and later kept under house arrest. In 1989 he died at age 51 under suspicious circumstances.
In 1995 the Dalai Lama had recognized a 5 year old boy from Tibet as the reincarnation of the 10th Panchen Lama. Shortly after the approval by the Dalai Lama, the boy and his family disappeared and has never been seen again. His whereabouts are unknown. Since then the Chinese have tried to 'enthrone' their own Panchen Lama. Tibetans refer to Communist China's puppet Panchen as the 'Panchen Zuma', which means 'false Panchen'.
Dieter Wanczura, May 2010