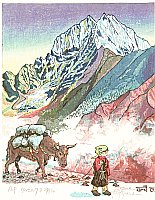 Osamu Sugiyama, born 1946 in Japan, is an passionate mountaineer and woodblock printmaker in Japanese style. The artist has climbed mountains all over the world, in Japan, Switzerland and of course in Nepal.
Nepal Mountains Seen with Japanese Eyes
Woodblock Prints by Osamu Sugiyama
Osamu Sugiyama was born in 1946 in Tokyo. He learned woodblock printmaking the old Japanese way by Toshi Yoshida, son of Hiroshi Yoshida - both famous Japanese woodblock artists. The prints by Osamu Sugiyama are to be found in renowned museums. One is the Library of Congress in Washington, DC, U.S.A. And you can find Osamu Sugiyama's woodblock prints also in a museum in Nepal, Pokhara International Mountain Museum in Nepal. Not quite as well known as the Library of Congress, but charming.
Dieter Wanczura in May of 2010