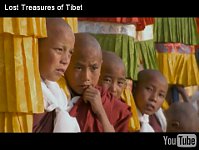 This is an exceptional documentary film by NOVA, a popular science and documentary series on television. The film is about Upper Mustang in Nepal with breathtaking images in HD quality.
This region on altitudes of more than 4,000 meters has preserved a nearly untouched medieval, Tibetan culture. The former "Last Forbidden Kingdom" was inaccessible for foreigners for centuries until 1991.
Documentary from Upper Mustang in Nepal
The video is nearly one hour long. It is of excellent quality in every aspect, and it is really worth watching it if you are interested in Tibetan culture and arts.
Endangered Tibetan Cultural Treasures in Mustang
The film shows breath-taking images from Upper Mustang and its medieval capital, Lo Manthang. A large part of the film is a documentary about the restoration attempts for some ancient temples with masterpieces of wall paintings that are now threatened to crumble. An Italian specialist who before had restored the famous mural paintings at the Sistine Chapel by Michelangelo and an Englishman try to preserve badly damaged wall paintings from the fifteenth century.
In Consent with the People and the King of Lo Manthang?
While the restoration work is undertaken by the Italian and the Englishman under Western aspects of art preservation, the local people of Lo Manthang and their former king, have slightly different views. The Lo citizens want the wall murals to look as they were centuries ago; in other words like perfect new images. But this is hardly possible without damaging the old parts in its original state.
This is actually a very interesting discussion, and shows two completely different approaches. While Westerners want to conserve artifacts, the locals want to have the original state back. For them the religious aspect is paramount.
Old versus New?
While I was watching the film, I was asking myself if it was not a better approach to use foreign financial aid not only for restoration work executed by foreign experts, but spend also a part to encourage the creation of new paintings, carvings and architecture in the old style. From my knowledge I definitely know that the skills still do exist among the Tibetans and Nepali (especially the Newaris). Encouraging such works with foreign aid, would not only preserve a cultural heritage but would also provide local people with incomes.
Duration: 54:07 Minutes.
Dieter Wanczura in May 2010