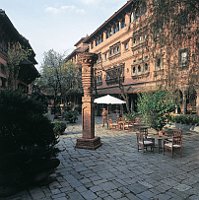 I have experienced hundreds of hotels in my life time, from crummy lodges in my youth to many luxurious places in my later years. And I have been frequently to Nepal. But I have never experienced anything like this before - Dwarika's Hotel in Kathmandu, where I spent 10 days in February of 2008.
Read my personal report, and watch a video with the daughter of the founder of Drwarika's.
Dwarika Das Shresta's Daughter: The Cultural Heritage of My Father
Dwarika's - a Living Museum
Dwarika's is a living museum. It is outstanding. You may consider me crazy or think I was paid to do some promotion here. But it is not. You cannot describe it with such words like luxury or in terms of financial investment. Because such a hotel cannot be constructed simply by means of money. Only a human being that devotes all energies of his life and all passion to an idea can create what Dwarika's hotel and several more projects of his represent today.
The Destruction of Old Heritage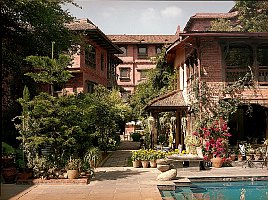 Elderly Germans may remember this phenomena from the 1950s, 1960s and the 1970s. Old beautiful houses once erected by skillful craftsmen with bricks and wood, were torn down and replaced with buildings of concrete, glass, steel, plastic and - as we know today - materials that later turned out to be a hazard to your health like asbestos. People then thought this was progress and hailed to the brave new world.
It was not much different in Nepal when the country opened itself for Western cultures for the first time in 1964.
Dwarika Das Shresta
Nepalese architecture has a tradition of using wooden carvings that are unique in this world. When the frenzy of modernism began in Nepal, people tore down the old houses made of brick and carved wood. And they used the wooden carvings as fire wood.
Dwarika Shresta was a man of great foresight. He began to collect these old wooden windows, doors, pillars and struts as early as 1952. First he stored them in his garden. Later he built some shelter to protect his storage place from the weather. And at a certain point Dwarika thought he should build a guesthouse using the material he had collected. And by and by the small guesthouse developed into what is today Dwarika's hotel. Later a carpenter and restoration school was opened on the estate of the hotel.
Dwarika Das Shresta passed away in 1992. His work and legacy is continued by his daughter and other people. The original collection of old architectural wood carvings has expanded into projects of preservation of an old heritage by restoration and by keeping the old craft alive by integrating it into a system of commercial sustainability.
Ten Days at Dwarika's Hotel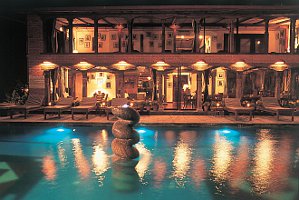 I spent roughly 10 days at Dwarika's in February of 2008. I had a lovely room. Not only the furniture was all original, hand-made Nepalese craftsmanship. Every little detail was the product of local Nepalese arts and crafts.
The hotel has a serene courtyard with a swimming pool and an extra building hosting a library and the bar. The bar is a nice place where I used to have one or two glasses of red or white wine in the evening. The restaurant was excellent and is a cozy place to be.
What Money Cannot Buy
When you travel frequently to Asian countries like Nepal and stay in upper class hotels you are used to have things like great and friendly service, great breakfast, a two hour laundry service and every kind of amenities around you. You have all that at Dwarika's. But that is not what makes it so special. It is this exceptional museum character that money cannot buy. Maybe I was experiencing this more than other people as I have been thrilled by the arts and especially by Asian arts and cultures since my childhood. But this is what my thoughts are.
You find the history of Dwarika Das Shresta and the hotel on the hotel's web site. Read History of Dwarika's. And take a look at the video in which Dwarika's daughter presents the hotel and tells how it all began - in impeccable English.
Dieter Wanczura, May 2010.
Related Articles