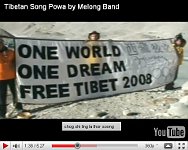 Western hard rock with elements of Tibetan folk music by Melon, a group of exile Tibetans now living in the USA.
Listen to this great song and watch a video that shows the fight of Tibetans and supporters for a free Tibet.
Melong Band
Melong is a rock group of exile Tibetan musicians who live today in the United States of America, Minneapolis, Minnesota. Their music sounds a bit like "good old rock'n roll" with a touch of Tibetan folk art. They use - but not exclusively - traditional Tibetan instruments. The members of the group are Tenzin Ngawang, Tenzin Jigmey, Jampa Choephel, George Dorjee and Tashi Phuntsok. The group makes good rock music and at the same time tries to raise awareness for the plight of the Tibetan people and the fight for a free Tibet.
Melong rock band maintains a web site on www.melongband.com. Their music has a fantastic drive. The rhythm can drive an old rock'n roller like me crazy. Good luck for the career of you guys, and may God bless the Tibetan people.
Dieter Wanczura in May 2010.