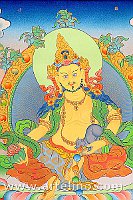 Jambhala is the Buddhist god of wealth, the equivalent of Kubera in Hinduism. One can find him quite often depicted on thangka paintings or as metal statues created by the famous Patan artisans. This article is meant for beginners in Tibetan arts and crafts and tells you the few things you should know about Jambhala and how you can recognize him. Easy to read and easy to understand.
"Money, money, money
Must be funny
In the rich man's world
Money, money, money
Always sunny
In the rich man's world." (lyrics from an Abba song.)
Jambhala
Tibetans are practical and efficient people. They know that it is easier to exert compassion for others and help others if you are free of having to worry about your own financial existence. And this is when Jambhala, the god of wealth, comes into the scene to play an important role in the Buddhist and Hindu pantheon of deities.
The Characteristics of Jambhala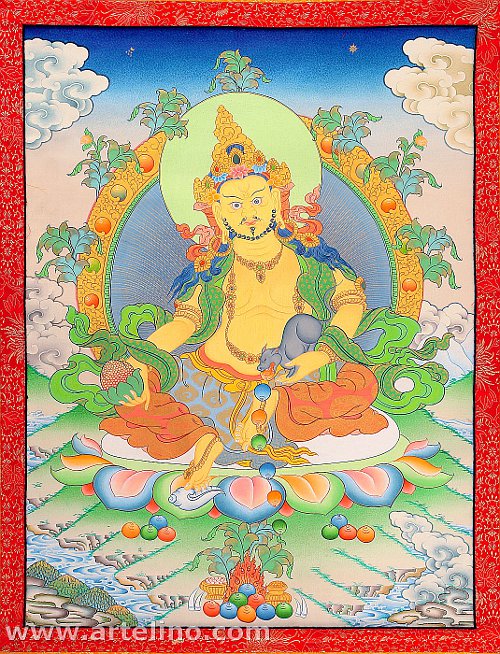 Jambhala is always shown a bit over-weight. Not really fat, but with a healthy body mass index (BMI). He is shown with a luxurious crown on his round head and holds a lemon in his right hand. Often he is sitting on a cute-looking small dragon. Dragons are seen as benevolent beings in Asia.
In his left Jambhala is holding a mongoose that spits jewels. And often he holds some more attributes of abundant wealth in his hands like a money bag with coins.
Jambhala - the Rainbow Scrooge McDuck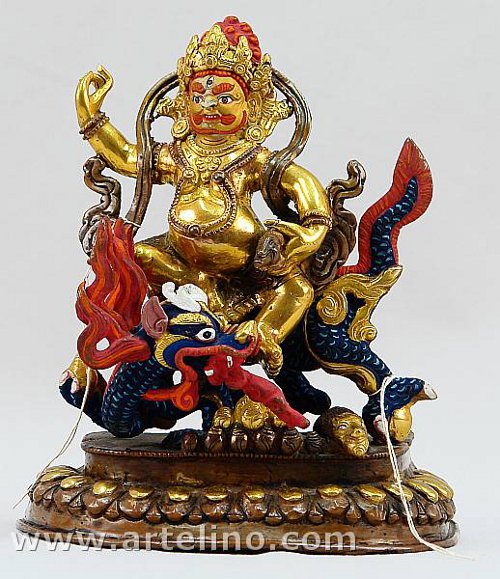 Pretty easy so far this Jambhala to describe and analyze. A kind of friendly, likable Scrooge McDuck. But you may have experienced that the Tibetan and Buddhist pantheon has a tendency of being complicated. One of the reasons of confusion is the concept of rebirth and manifold manifestations.
And now it comes. The Buddhist Jambhala is not the only one. There is a yellow Jambhala and there are more - in white, black, red and green. Overall 5 Jambhalas. And to make things worse, this Jambhala guy is also said to be a close or distant relative (in correct Buddhist terms: an emanation) of Avalokiteshvara, alias Chenrezig.
Jambhala - the Essentials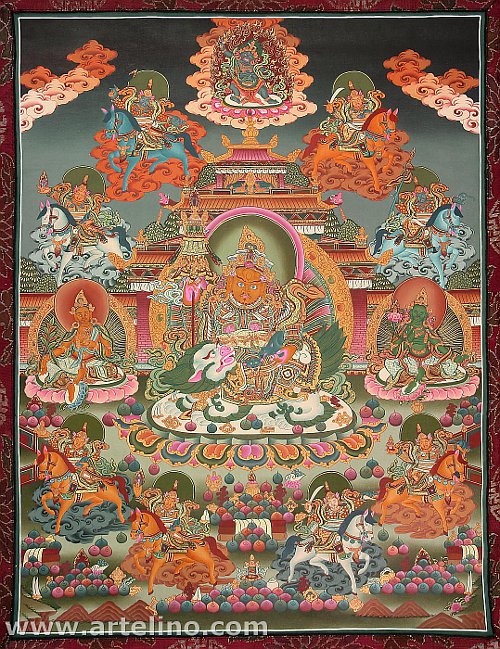 But what about these different colored Jambhalas? My advice: forget it! You need not really know it unless you want to reach expert level. Just remember that Jambhala is the god of wealth and that he comes in different colors. And his Hindu equivalent is called Kubera. This is it.
Dieter Wanczura, June 2010.