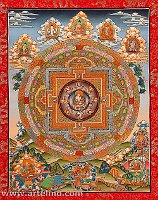 Mandalas are among the popular Tibetan thangkas. Buddhist use them as a meditation aid. And art collectors and tourists like them for their serene quietness and intricate paintings.
This article shows a slide show of roughly two dozens Mandala thangkas.
Tibetan Mandalas
Mandala Thangkas from Different Periods
The mandala thangkas shown are from two different periods. One part is contemporary, bought in 2008. Others are from the 1970s. With a sharp eye one can recognize the difference. The difference is not necessarily in quality, it is the style, the colors, the combination of colors.
A little simple helper for beginners. When you see a decorative border design ( I mean the thangka, not the brocade cloth. ) then the thangka was made after 2000.
Dieter Wanczura, June 2010.