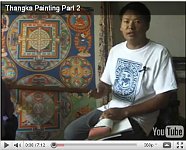 Part Two of three videos demonstrating and explaining thangka painting by Joel Kimmel, Pele Gelfenbaum Productions. In the second part Gyurmey Lama, a thangka painter working in Bodnath, Nepal, shows and explains to us the text book of thangka painting (an iconographic pattern and detailed guidebook), speaks about the three different kind of deities (peaceful, wrathful, semi-wrathful) shown on thangkas.
Thangka Painting Video - Part II
Canvas Preparation and Color Pigments
He explains how the canvas is prepared and how the outlines are drawn. Then he shows and explains the traditional pigments used for painting. They come from minerals, and the process of preparation with grinding and adding glue takes several days.
Duration: 7:12 Minutes.
Dieter Wanczura in April 2010