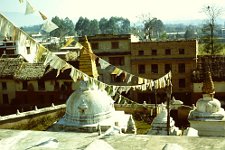 Bodnath. located to the east of Kathmandu city, is dominated by its large stupa. It has been a center for Nepal's Buddhists for a long time. And after 1959 Bodnath has become the home for many Tibetan refugees.
Bodnath in Nepal
The Stupa of Bodnath in Nepal
The stupa of Bodnath is one of the major Buddhist tourist attractions in the Kathmandu valley. It has been revered by Tibetan pilgrims for centuries. After the Tibetan exile in 1959 many Tibetans settled around the Bodnath stupa. In direct vicinity there are several Buddhist monasteries.
Used to be one of my Favorite Places
Still in the 1980s this used to be a nice destination for a one day excursion by bike. I visited the Bodnath stupa again in 2008. Although it is now much more lively than 30 years ago, it is still a pleasant place to be. But don't take the bike unless you like to be a suicide candidate. Get there by bus or by taxi. The once quiet Kathmandu valley has turned into a traffic madness.
Handicraft Shops around the Stupa
In the inner circle that surrounds the stupa, you find one handicraft shop to the next - thangkas, statues, books and all kind of Tibetan and Nepalese handicraft. It is in my view one of the more recommendable shopping sites. Quality in general is good and prices are reasonable. Nevertheless, be careful and don't forget to haggle.
When you enter the main entrance of the circle, then a few meters to the left, you find a restaurant where you can eat on the roof top. From there you have a wonderful view on the stupa and the surrounding skyline of Bodnath. It is a nice place to be.
Bodnath or Bodhnath or Boudhanath or ...?
When it comes to names in Nepal, you will not find any consistent writing. On Wikipedia you find Boudhanath, Bouddhanath, Bodhnath or Baudhanath or Bodh-nath. I used Bodnath on this page and the web site, following my old travel guides. The name confusion is also a result of the many different ethnic groups in Nepal and the coexistence of two religions, Hindu (the majority) and Buddhism. Both religions live side by side in peace, and the Nepal culture is a melting pot of both.
Historical Photographs
The photographs for the slideshow were taken in the late 1970s and early 1980s. If you are interested in more information please read My Journeys to Asia
Dieter Wanczura in May 2010