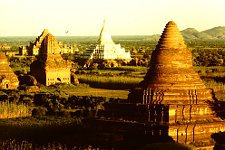 Pagan is unique in this world. A huge jungle area of circa 25 square kilometers filled with deserted temples, pagodas and cloisters. The area once comprised 20,000 buildings of which 5,000 are still in a well preserved state. In 1980 I saw it as a huge untouched area of ruins in the jungle that seemed to be out of this world.
The Temples of Pagan
From what I read in the Internet, the area may have been severely damaged by the military junta. A highway was built (You can recognize it on Google Maps.). A golf course was established in the area and unprofessional and unauthentic restoration works have been undertaken. Therefore the UNESCO denies the world cultural heritage status.
The photographs were taken in 1980. For more information please read My Journeys to Asia
Dieter Wanczura, 2010.